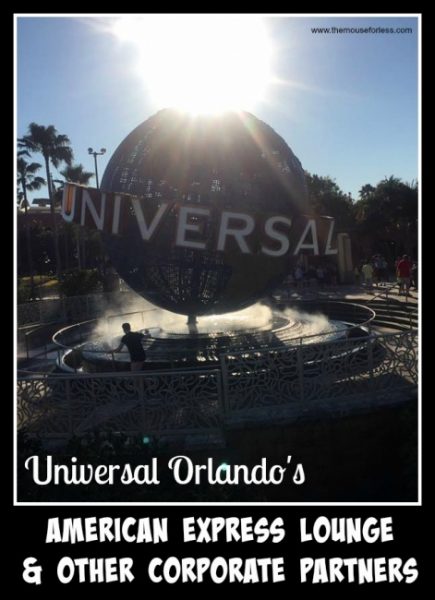 Universal Orlando Resort has many corporate partners that contribute to all the fun you experience while staying at one of their resorts or visiting a theme park. Most of the partners offer savings or discounts in order to help you get the most out of your vacation!
American Express Avis & Budget Coca-Cola Macy's Other Partners
American Express
Indulge in exclusive in-park privileges and discounts when you use the official card of Universal Orlando Resort. All you need to do is download the Universal mobile app to view and also claim American Express offers.
Universal Orlando's American Express Lounge
Universal Orlando's American Express Lounge is located in Universal Studios across from Shrek's Ye Olde Souvenir Shop. Get access to the lounge by purchasing any Universal Orlando multi-park ticket or an annual pass with an American Express card. Inside Universal Orlando's American Express Lounge there are free snacks and drinks. In addition, if you have any questions feel free to ask the full time concierge. Hour of operation for the Universal Orlando's American Express Lounge are Monday – Friday 12:00 p.m. – 5:00 p.m. Subject to availability.
Dining Savings
When you purchase a dining plan with your American Express card receive 10% off.
To get a free souvenir cup present your mobile app offer at the time of purchase.
Shop & Save
Receive 10% off of a $75.00 purchase of specific in store products. To claim offer present mobile app offer to the cashier at the time of purchase.
Photo Package
When you purchase the My Universal Photos package with your American Express card, you will also receive a free printed photo of your choice. Choose between two sizes, 5″ x 7″ or 8″ x 10″.
Avis & Budget Car Rental
Both Avis and Budget are the official car rental partners of Universal Orlando Resort.
Avis
Renting through Avis you there are offers on free park days and upgrades. Get 25% off your rental anywhere, anytime if you are a current or past guest of Universal Orlando Resort. Reserve your car, truck, or SUV using code AWD# 397600. Plus enjoy additional offers, including free upgrades, free days and more.
Budget
Receive 25% off when booking with Budget.
Parking Perks
If you rent from either companies from the airport you get free Prime Parking at Universal Orlando Resort.
Coca-Cola
Coca-Cola is Universal Orlando Resort's official soft drink partner.
Halloween Horror Nights Savings
Save on select nights of Halloween Horror Nights. When you purchase your ticket use the UPC code found on any can of Coca-Cola product.
Macy's
Macy's Thanksgiving Day Parade
For those who cant make it to Macy's Thanksgiving Day parade, enjoy a version of it at Universal Studios through most of December for the holiday season called the Universal's Holiday Parade Featuring Macy's. Experience some of the breathtaking balloons and floats that rolled down the Macy's parade route live at Universal Studios Florida. Join in on the fun after the parade where there is music, an elaborate light display, and a tree lighting ceremony.
Other Partners
For other Universal Orlando Resort discount options click here.