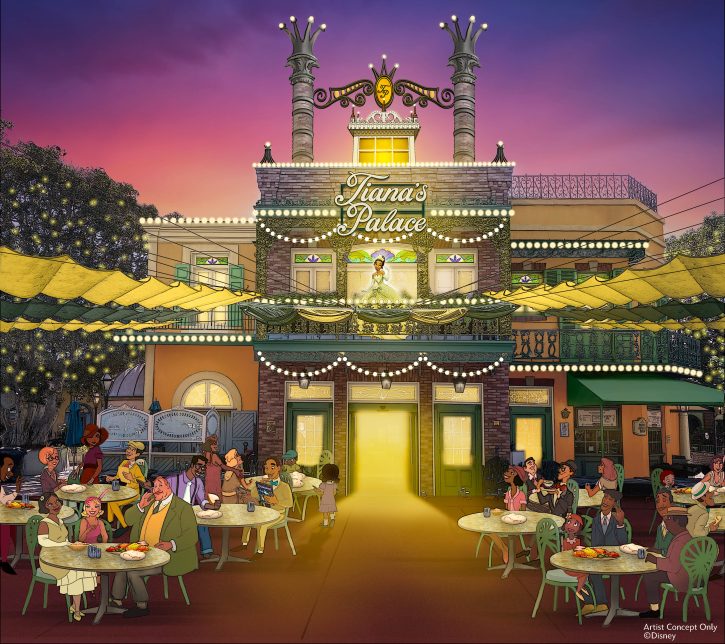 Exciting news for Disneyland fans! You're about to get a restaurant themed after "The Princess and the Frog" called Tiana's Palace. The update will happen at the French Market Restaurant in New Orleans Square at Disneyland Park.
Now for those who have seen the film, Tiana's Palace is the restaurant that Tiana wants to open so she can share her cooking with the world. It's her dream!
Tiana's Palace will be the newest restaurant on Orleans Street. Within its peach-colored walls and fancy green wrought-iron balconies, Guests will see elegant fixtures and appointments. The restaurant will offer authentic New Orleans flavors inspired by Tiana's friends and adventures in this quick-service style restaurant. Unfortunately. Tiana's Palace will not be a character dining location. The menu however will explore seasonal flavors and, of course, offer some New Orleans classics.
To begin this work, French Market Restaurant will be closed beginning February 17, 2023. In addition, the Mint Julep Bar will also need to close to accommodate this work. The updated restaurant will reopen (alongside Mint Julep Bar with its famous mint juleps and Mickey beignets) later in the year.
The update will tie in nicely with the change over of Splash Mountain to Tiana's Bayou Adventure. In addition, Eudora's Chic Boutique Featuring Tiana's Gourmet Secrets is a new retail shop that Tiana opened with her mother, Eudora in New Orleans Square recently.
Follow The Mouse For Less for more information about the latest Tiana's Palace news.
For more Disney news and trip planning advice, follow The Mouse For Less on Facebook, Twitter, Instagram, YouTube, or TikTok.