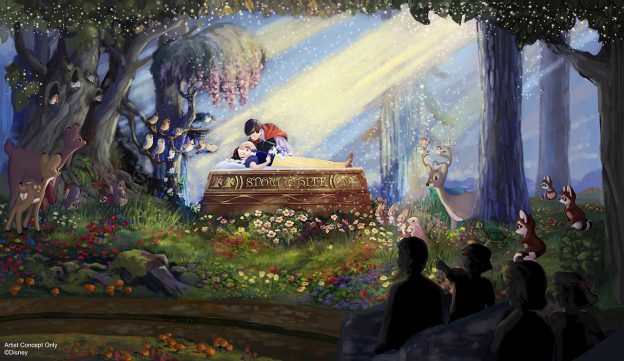 Snow White's Scary Adventures at Disneyland will be seeing some huge upgrades here soon! The Fantasyland attraction will see new magic mixed in with the familiar elements of the attraction you know and love. Updates for the attraction include enhanced story details and all-new scenes. For example, a new vignette will show Snow White in a beautiful forest setting waking up from her deep sleep. Also, the attraction will now be ending with Snow White reunited with her animal friends and a shimmering castle is seen in the distance.
The Imagineers will be implementing state-of-the-art audio and visual technology throughout the attraction, including new music, LED black lighting, laser projections and a new animation system. The exterior of the attraction will be completely refreshed with new, fairy tale-inspired details to complement the nearby charming Sleeping Beauty Castle.
In 2020, this opening day attraction will celebrate 65 years at Disneyland.
Snow White's Scary Adventures will be open in its current iteration through January 6, 2020.