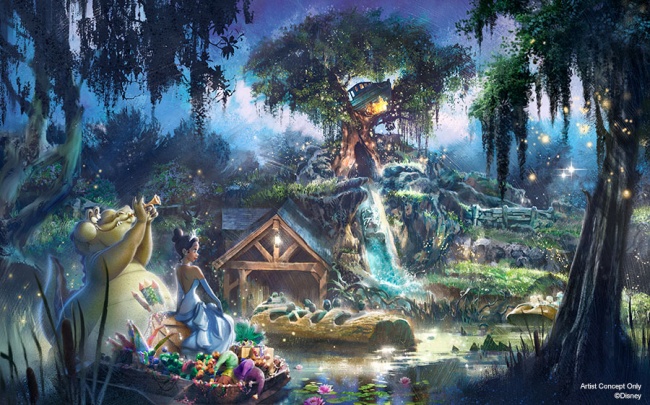 It's official. Disney will be retheming both Disneyland and Walt Disney World's versions of Splash Mountain to an attraction based on the animated classic, The Princess and the Frog. The new attraction will pick up after the final kiss where we will now join Princess Tiana and Louis on a musical adventure as they prepare for their first-ever Mardi Gras performance. (And yes, the incredible music from the film will be front and center in this new attraction.)
"The retheming of Splash Mountain is of particular importance today," according to a statement posted on the Disney Parks Blog. "The new concept is inclusive — one that all of our guests can connect with and be inspired by, and it speaks to the diversity of the millions of people who visit our parks each year."
This change over has actually been in the works for a while; it's been on the table since last year, however, the move has been pushed to the forefront by Disney following a flurry of social media buzz to update Splash Mountain's controversial backstory amid social justice protests.
The Splash Mountain makeover will be led by Imagineering senior creative producer Charita Carter and Imagineer Tony Baxter, who had an inital hand in creating Splash Mountain, will serve as a creative advisor.
For those who don't know, the attraction, Splash Mountain, is based off the controversial 1940s Disney film, Song of the South. The film features characters and songs based on the "Uncle Remus" stories, a collection of folktales from the Southern plantation era that were compiled by Joel Chandler Harris and published in the 1880s. These stories have been criticized for perpetuating racist stereotypes, so much so that Disney shelved the controversial live-action/animated musical film back in the 1980s and the company's former CEO and current Executive Chairman Bob Iger said the movie would not appear on Disney+.
There is currently no closing date for the attraction in its current form on either coast. It does however appear that when the parks reopen from their coronavirus closure, it will reopen in its current form at both resorts.