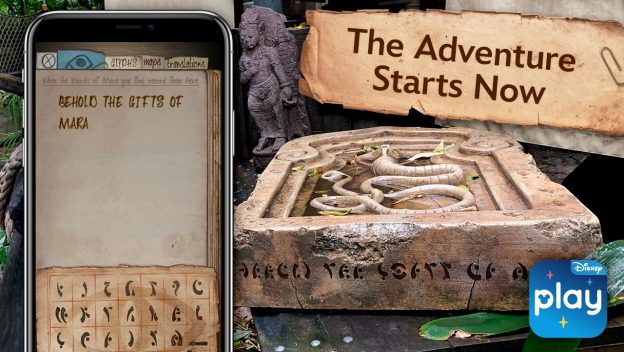 Back when Disneyland first opened the Indiana Jones Adventure in 1995, Guests who would enter the attraction's would receive a decoder card that allowed them to translate the glyphics that could be found throughout. This decoder card went away many years ago, however, now, courtesy of the Play Disney Parks app, the ability to decode these graphics is now possible once again.
By using the app, Guests will be able to interact with the "Indiana Jones Adventure – The Gifts of Mara." As guests explore this game within the app, they will be able to once again decode the ancient glyphs, along with some new symbols and codes that have been added throughout the queue, to piece together the legends of Mara. Each translated code will reveal a single portion of a map and once completed, Guests will receive digital achievements. When finished, you'll be able to piece together a special message from Mara herself.
"Indiana Jones Adventure – the Gifts of Mara" is the latest in-queue experience to be added to the Play Disney Parks app, which brings unique in-park experiences and family-friendly activities to life at both the Disneyland Resort, as well as at the Walt Disney World Resort. To begin playing these games, you can download the Play Disney Parks app from the App Store or Google Play store.