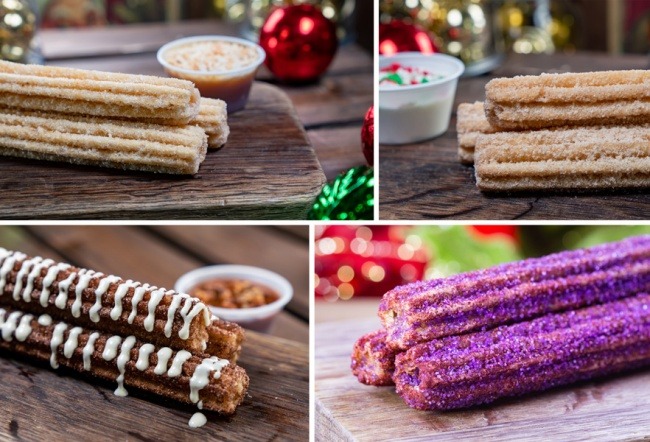 Are you ready to celebrate the holiday season at the Disneyland Resort? One great way is with the great food and beverage options that are available and Disneyland Park has a number of fantastic choices! Take a look at what you'll be able to pick up from now until January 6, 2020.
Holiday Churros
Caramel and Coconut Churro (Town Square Churro Cart and Churros Near Sleeping Beauty Castle)
Santa's Cookies and Milk Churro (Churros Near Casey Jr.) – Artisan churro rolled in cookie butter sugar and served with sweet milk dipped sauce
Toffee-Flavored Churro (Tomorrowland Churro Cart) – add-on chocolate-almond or chocolate dipping sauces available
Turtle Churro (Frontierland Churro Cart) – Artisan churro rolled in chocolate sugar and served with caramel pecan dipping sauce
Sugar Plum Candy Churro (New Orleans Churro Cart) – Sweet and tart churro
Outdoor Vending Carts
Pink, Blue, and Candy Apple Cotton Candy
Peppermint-Caramel Corn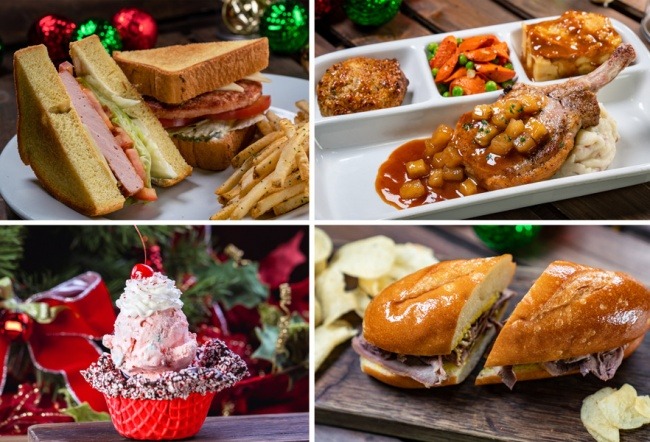 Carnation Café
Fried Bolonga Sandwich – Pullman bread, mayo, fried bologna, lettuce, tomato, and pickle stackers served with fries
Pork Chop TV Dinner – Pork chop with seasoned apples, mashed potatoes, peas and carrots, and a cheddar and chive scone served with caramel bread pudding
Gibson Girl Ice Cream Parlor
Peppermint Holiday Sundae – Peppermint ice cream topped with chocolate sauce and crushed peppermint
Refreshment Corner
French Dip Sandwich – Roast beef, spicy mustard, and au jus served on a crunchy French roll with chips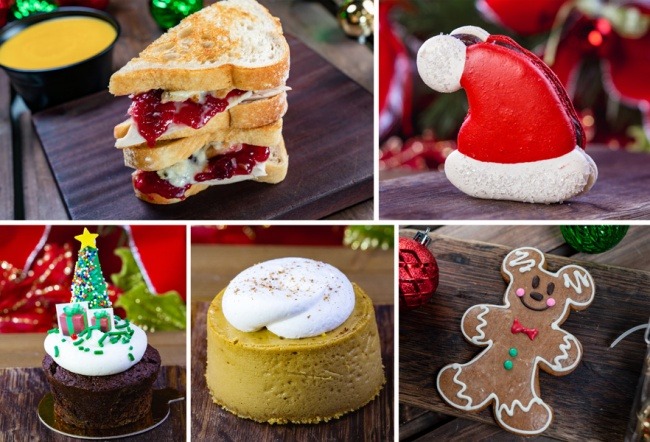 Jolly Holiday Bakery Café
Thanks-Mas Sandwich – Oven-roasted turkey, stuffing, gravy, and cranberry sauce on rustic bread
Butternut Squash Soup
Snowman Shortbread Cookie
Santa Hat Macaron – with white mint filling and chocolate ganache
Pumpkin Muffin (available through Dec. 1)
Dutch Apple Cinnamon Muffin (available Dec. 1)
Eggnog Latte Cheesecake – with white chocolate mousse foam and a sprinkling of nutmeg
Holiday Cupcake – Vanilla bean cupcake filled with red and green chocolate pieces, finished with green and white-swirled white chocolate mousse, and chocolate swirl candy pieces
Holiday Brownie – topped with white chocolate mousse and sprinkles and finished with chocolate presents and a Christmas tree
Mickey Gingerbread Man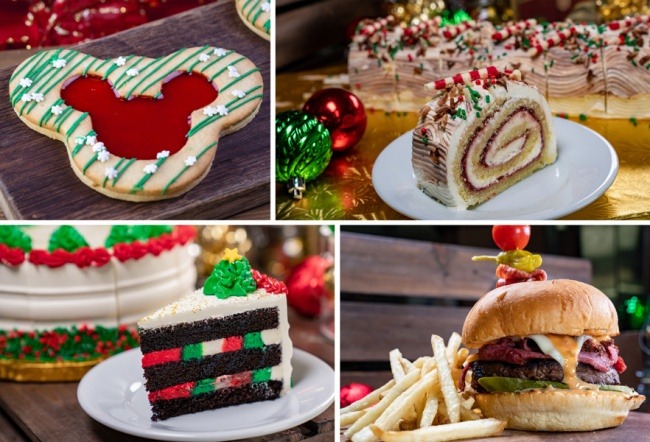 Market House
Holiday Strawberry Linzer Cookie
Snowman Shortbread Cookie
Mickey Gingerbread Man
Plaza Inn
Raspberry Mascarpone Yule Log – Vanilla sponge wrapped with raspberry marmalade and mascarpone filling topped with buttercream ganache and chocolate curls
Christmas Cake – Chocolate sponge cake with red, green, and white swirled chocolate mousse filling topped with buttercream and finished with sprinkles
Christmas Bundt Cake (available Dec. 1)
Red Rose Taverne
Beast's Forbidden Pastrami Burger – Angus beef patty, uncured wagyu pastrami, Swiss-American cheese, spicy mustard aïoli, and a skewered accompaniment
Pumpkin Spice Shake
Mickey Gingerbread Man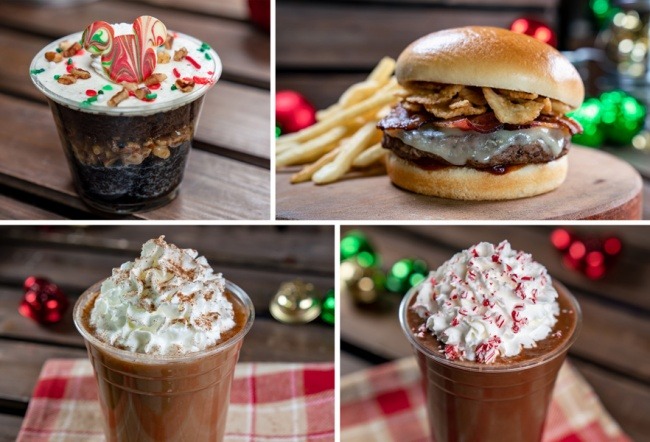 Galactic Grill
Caramel Pecan Brownie Parfait
Steakhouse Burger – Angus beef patty, provolone, onion strings, and sweet spiced bacon on a toasted bun served with choice of yogurt or french fries
Apple Pie Slush
Nova Coffee Slush – Chocolate-mint-flavored coffee slush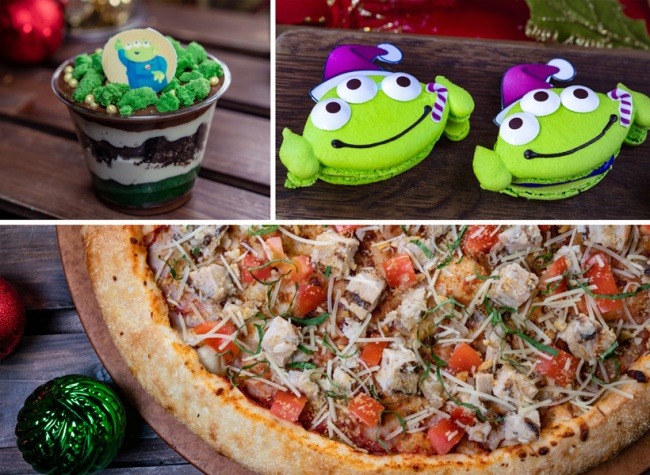 Alien Pizza Planet
Bruschetta Poultrium Pizza – Tender chunks of chicken, house-made bruschetta, and assorted cheeses with spiced marinara sauce
Green Alien Holiday Macaron – with lemon filling
Alpha Broccolius Parfait – Layers of soft mint ganache, green cake, white chocolate mousse, cookies and cream streusel, and whipped topping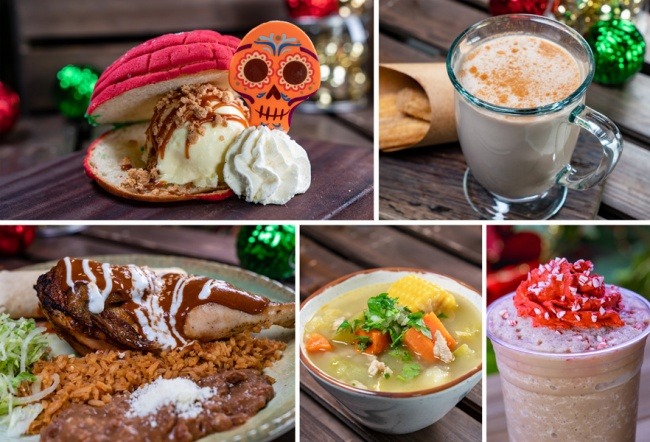 Rancho del Zocalo
Pan Dulce Ice Cream Sandwich – Colorful shell-like Mexican sweet bread with dulce de leche ice cream, cajeta, and churro streusel
Champurrado with Churro Bites – Rich, traditional-style Mexican hot chocolate served with cinnamon-sugar churros
Chicken Mole – Seasoned half chicken topped with mole, drizzled with sour cream, sprinkled with toasted sesame seeds, and served with Mexican rice and refried beans
Caldo de Pollo – Hearty soup of chicken, vegetables, and rice served with onions, cilantro, and lime
Frozen Abuelita Hot Chocolate – Layered with frozen horchata and topped with spiced whipped cream
Golden Horseshoe
Holiday Ice Cream Sandwich
Stage Door Café
Apple Pie Funnel Cake – House-made funnel cake with cajeta, whipped cream, and streusel
Hungry Bear Restaurant
Snickerdoodle Cold Brew
Pumpkin Spice Cheesecake Funnel Cake
Blue Bayou Restaurant
Gingerbread Crème Brûlée – with Chantilly cream and a mini chocolate gingerbread man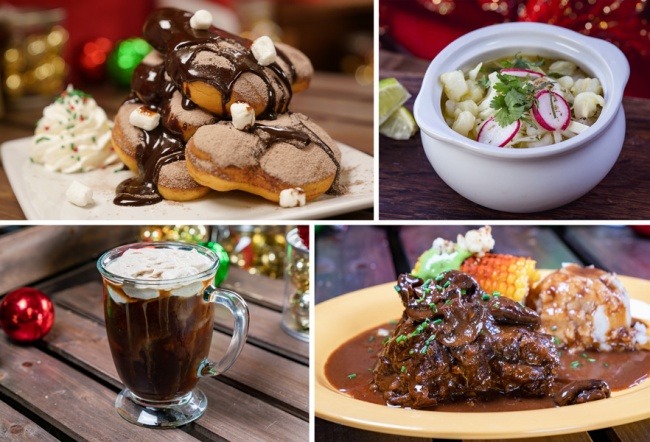 Café Orleans
Hot Chocolate Beignets – Served with hot chocolate sauce and whipped cream
Harbour Galley
Holiday Pozole – plant-based pozole with slow-roasted tomatillos, hominy, and serrano chiles and served with limes, radishes, and shredded cabbage
Pumpkin Spice Cold Brew Coffee
French Market
Smothered Beef – Braised beef with mashed potatoes, seasonal vegetables, roasted garlic, and caramelized onion jus
The Wedding Cake – Buttercream frosting, cherries, and cream cheese filling finished with a splatter of cherry sauce
Blue Velvet Cake – With blueberry purée, rice croquette brittle, and a vanilla-blueberry crisp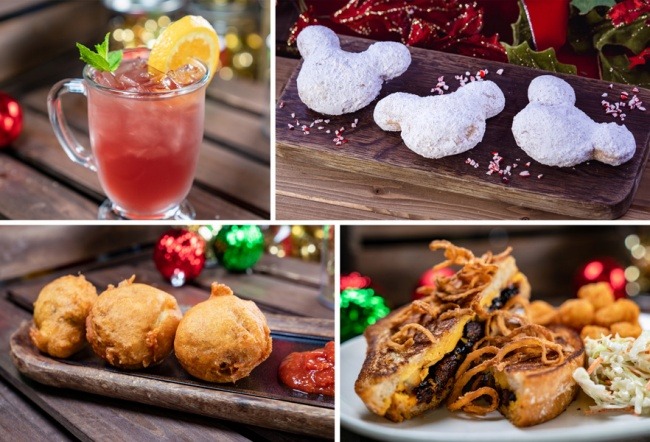 Mint Julep Bar
Candy Cane Beignets
Chocolate Dipping Sauce Add-On
Cranberry Julep – Cranberry-infused mint julep
Royal Street Veranda
Blue Lump Crab Fritters – Blue lump crab, cream cheese, herbs, citrus, and herb seasoning with cocktail sauce
River Belle Terrace
Burnt Ends Grilled Cheese Sandwich – Kansas City-style brisket ends tossed in barbecue sauce with pickle and pepperoncini relish and melted cheddar served on Texas toast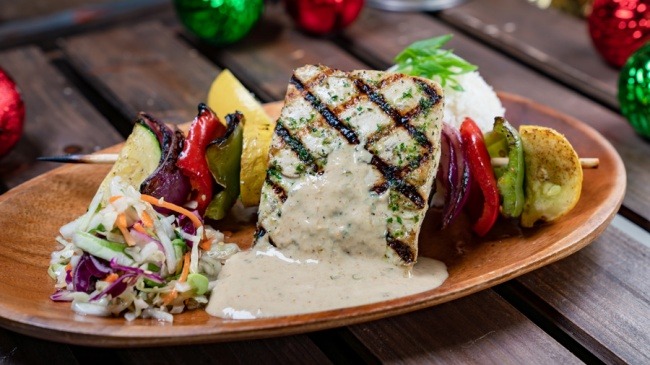 Bengal Barbecue
Yellow Curry Rice Plate – Outback vegetable skewer and herb-marinated tofu served on a bed of jasmine rice with peas, green onions, and a side of citrus-miso slaw
Want to order these items a little easier? Many of them are available for mobile ordering through the Disneyland App.