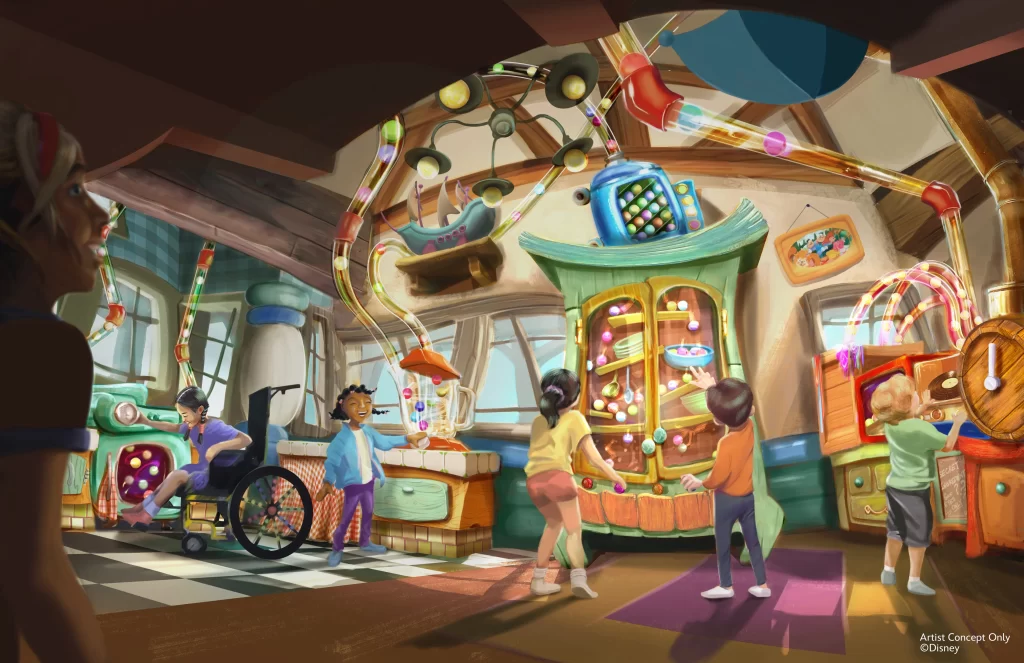 For those who are unaware, Mickey's Toontown in Disneyland has been closed for some time as they land gets an entire update. Part of that update will be the newly announced Goofy's How-to-Play Yard. From the concept art, this area takes Guests into Goofy's House and allows them to interact with fun activities throughout.
As a reminder, also part of this update for Mickey's Toontown is going to be the new for Disneyland attraction, Mickey and Minnie's Runaway Railway. Mickey & Minnie's Runaway Railway will take Guests into the world of the Mickey Mouse cartoon shorts. During the attraction, Guests will board a train with Goofy as the engineer. You'll then be whisked away on a zany, out-of-control adventure filled with surprising twists and turns. The attraction uses state-of-the-art technologies and visual effects to transform the cartoon world into a multi-dimensional experience that feature a unique 2 ½-D experience with no 3D glasses required.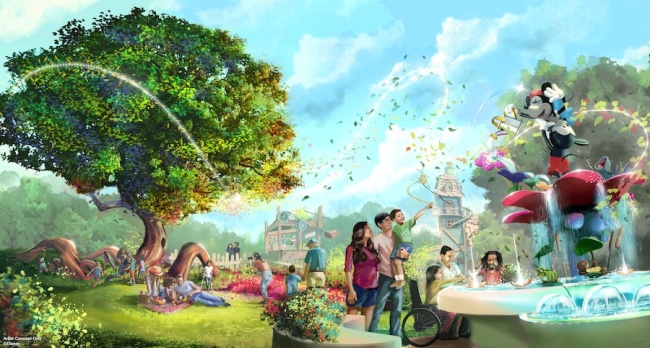 Other Additions In Store for Mickey's Toontown
Other changes for Mickey's Toontown include a vibrant area where families with young children will be able to enjoy new play experiences, as well as open, grassy play spaces. The land will have landscaping for both spontaneous play and relaxation. When open in 2023, Mickey's Toontown will offer more play activities. There will be new experiences that will let children play, slide, spin, splash, touch and listen!
One of the new areas coming to Mickey's Toontown will be CenTOONial Park. There will be two interactive play experiences anchoring this updated area. At the center of CenTOONial Park will be a fountain which will also become a center icon for the land. In addition, water tables will invite guests to play with the water. The fountain will also be brought to life in a unique way at night.
Guests will also find a dreaming tree. This tree will be inspired by the one that a young Walt Disney would daydream under in his hometown of Marceline. Sculpted tree roots will provide an opportunity for children to play, crawl and explore. There will also be places that will offer rolling hills and a place to sit and dream.
Follow The Mouse For Less for more information about the latest Disney D23 Expo news.
For more Disney news and trip planning advice, follow The Mouse For Less on Facebook, Twitter, Instagram, YouTube, or TikTok.