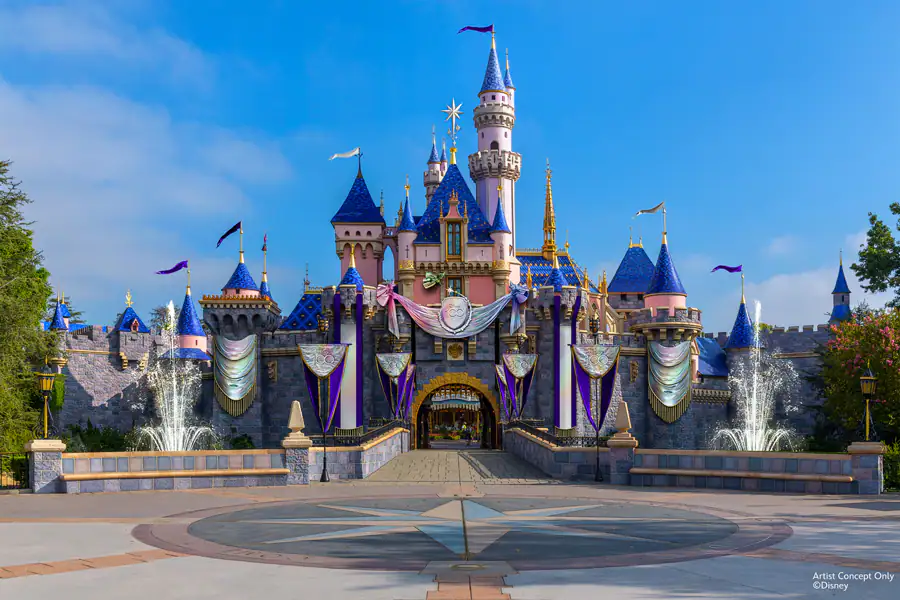 We officially have a kick off date for the Disney 100 Years of Wonder celebration. This is slated to be a large company global celebration of the 100-year history of The Walt Disney Company. Disney Parks around the world will celebrate the 100th anniversary, with the heart of the celebration at Disneyland Resort. The Disney 100 Years of Wonder will kick off on January 27, 2023 and there will be special limited-time offerings throughout the resort all year long.
As part of the celebration, Guests will see new platinum-infused décor throughout the resort, new looks for Mickey, Minnie Mouse and their pals. Oh and yes, there will also be special food and beverage offerings, merchandise and more.
At Disneyland Park, Sleeping Beauty Castle will be dressed for the anniversary. The castle will be adorned with  platinum banners and bunting, accented by a magnificent cabochon featuring the three Good Fairies who illuminate it with their shimmering pixie dust. Two majestic water fountains will be found on either side of the moat, while a beautiful wishing star will sparkle from the tower above.
Also part of this celebration at the Disneyland Resort will be two previously announced, all-new nighttime spectaculars.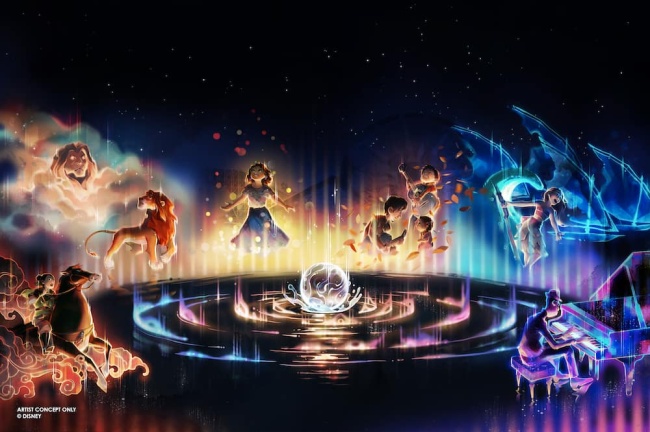 "World of Color – One" at Disney California Adventure will celebrate the storytelling legacy started by Walt Disney, 100 years ago. It will tell a new story of how a single action, like a drop of water, creates a ripple that can grow into a wave of change. The show will also feature a new original song, "Start a Wave."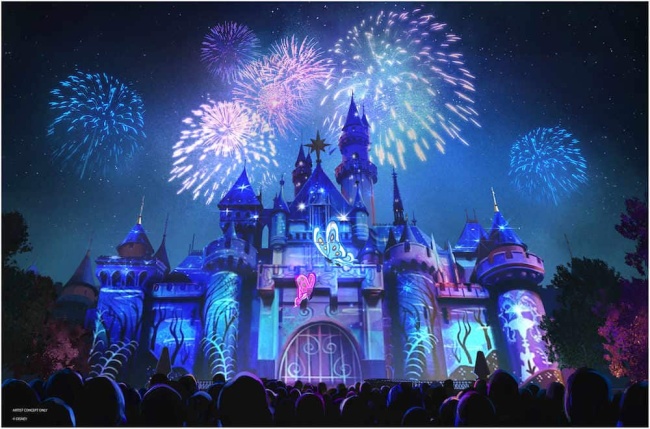 Moving over to Disneyland Park, there will be a new nighttime spectacular called "Wondrous Journeys." It will feature nods to every Walt Disney Animation Studios film to date. It will continue to build upon the park's state-of-the-art projection effects, turning Main Street, U.S.A., Sleeping Beauty Castle, the façade of "it's a small world" and the Rivers of America into an area that brings characters to life all around you. On select nights, "Wondrous Journeys" will even feature fireworks in the sky above Disneyland. This spectacular will also feature a new song, "It's Wondrous."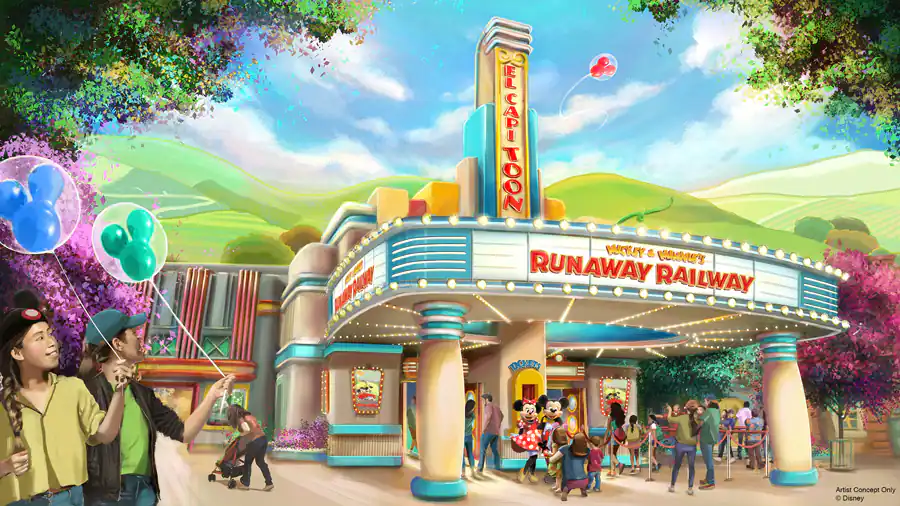 But that's not the only exciting news. Mickey & Minnie's Runaway Railway attraction will open on January 27, as well! Now keep in mind, the other parts of Mickey's Toontown that are being updated won't reopen until spring 2023.
Also, in time for spring, the "Magic Happens" parade will return to Disneyland Park. "Magic Happens" celebrates the awe-inspiring moments of magic that are at the heart of so many Disney stories.
Plus, even more special entertainment moments are slated to pop up across the resort.
For those who are looking to visit the Disneyland Resort, for the Disney100 anniversary, keep in mind that as of right now, theme park reservation availability for Disneyland Park and Disney California Adventure is currently paused for dates beyond January 8, 2023, and will resume for guests in the coming weeks.
But this is just the start. Additional news for the Disney100 celebration at Disneyland Resort will be shared soon! Stay tuned to The Mouse For Less for those details.
For more Disney news and trip planning advice, follow The Mouse For Less on Facebook, Twitter, Instagram, YouTube, or TikTok.