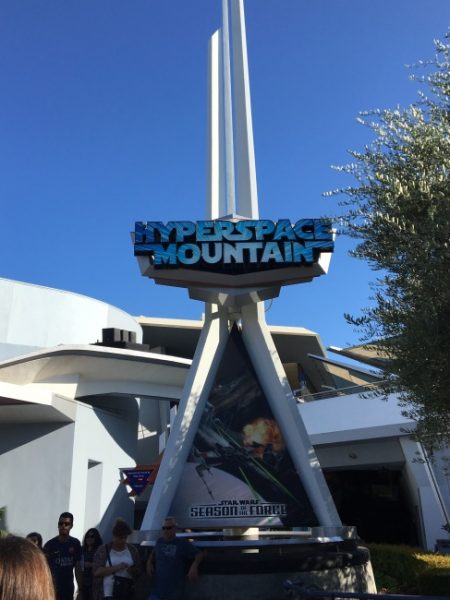 At Disneyland in Anaheim, California, guests can experience Hyperspace Mountain, a fast paced roller coaster through the stars, in a galaxy far far away. The classic Space Mountain has been revamped to the backdrop of one of the most successful franchises, Star Wars. In the Disney Parks landmark, Space Mountain, guests are recruited by the Rebel Alliance to fight the evil Galactic Empire.
Experience
Guests board their star-fighters two by two, in a six seat car. Instantly, guests are met with a blast of classic Star Wars music, as the Opening Theme plays while guests ascend into Hyperspace Mountain. This ride combines a classic Disneyland attraction, with a brand new overlay that brings together the old and the new.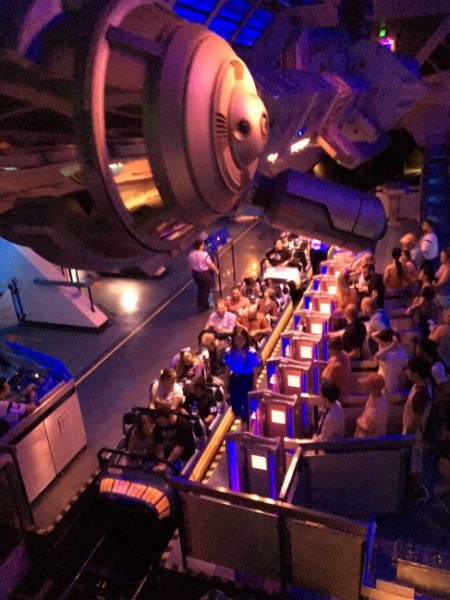 The ride is quick and dark, making sharp turns and drops at a moments notice. Guests should be sure to be in good health and free from high blood pressure, heart, back or neck problems, motion sickness, or other conditions, before taking up the fight against the Empire. Guests must be 40″ tall to ride Hyperspace Mountain.
The Mouse for Less Trivia
**Did you know the original Space Mountain first open on May 27, 1977, and was the second roller coaster to operate at Disneyland
**Did you know the Star Wars re-imagination opened on November 16 of 2015, as a part of the Season of the Force campaign.
**Did you know the original Space Mountain opened in the same year as the release of the original Star Wars film.