Disneyland Resort | Adventureland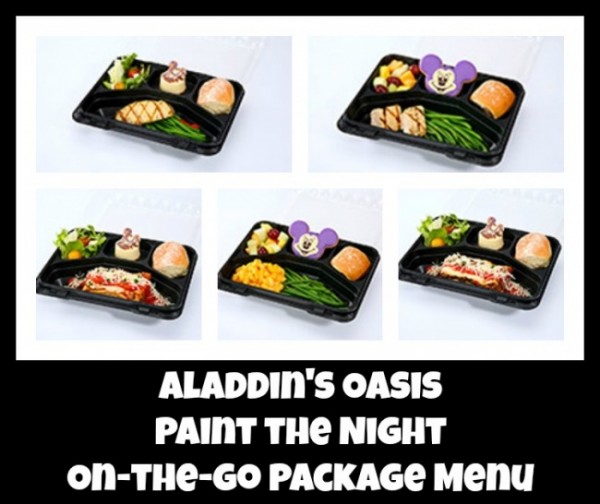 Paint The Night Menu
Reserve a Grab & Go meal online or by phone prior to your visit. Then, stop on by Aladdin's Oasis in Disneyland Park to select your choice of entrees.  This package comes with the meal plus (1) voucher to the preferred viewing area for Paint the Night parade!
Reservations for this On-The-Go Dining Package are limited. Advance reservations are highly recommended.  The Package is available for $22.99 per adult and $13.99 per child (ages 3 to 9); tax is not included. Guests can pre-reserve a time between 12:00 PM and 7:00 PM to pick up their Grab & Go meal.
For reservations, you can book online or call (714) 781-DINE or (714) 781-3463 between 8:00 AM and 9:00 PM. Subject to availability.
Restaurant Info: Outdoor, American Cuisine, Casual, $$ – $15 – $29.99 per person
Adults' On-The-Go Paint The Night Menu Entrees (Choice of One)
Menu Date: 01/2018
Herb-marinated Chicken Breast
with Seasonal Vegetables, Mixed Greens, Dinner Roll, Marbled Cheesecake, and Beverage
Lasagna Bolognese
with Mixed Greens, Dinner Roll, Marbled Cheesecake, and Beverage
Vegetarian Lasagna
with Mixed Greens, Dinner Roll, Marbled Cheesecake, and Beverage
Kids' On-The-Go Paint The Night Menu Entrees (Choice of One)
Menu Date: 01/2018
Grilled Chicken Breast
served with Seasonal Vegetables, fresh Fruit, Dinner Roll, Mickey Cookie, and Beverage
Spaghetti with Marinara Sauce
served with Seasonal Vegetables, fresh Fruit, Dinner Roll, Mickey Cookie, and Beverage
Macaroni & Cheese
served with Seasonal Vegetables, fresh Fruit, Dinner Roll, Mickey Cookie, and Beverag
** Paint The Night Menu and Prices are Subject to Change Without Notice **