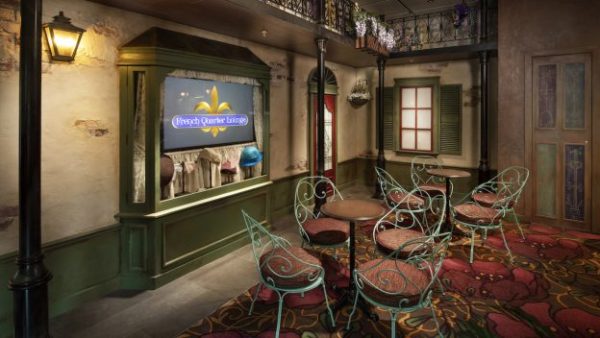 The Disney Wonder recently saw some refurbishment work and this week, the changes were revealed. Changes included an update to a lounge, the re-do of the Cove Cafe and Signals Bar and changes to the Vibe teen club.
The first big change is the addition of the French Quarter Lounge, which brings to life New Orleans flare and transports Guests into the French Quarter. The French Quarter Lounge, which is themed around The Princess and the Frog is the perfect complement to Tiana's Place Restaurant.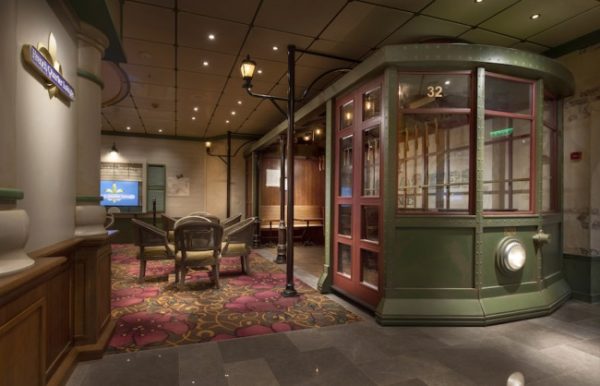 The French Quarter Lounge looks like an outdoor space featuring details like a storefront window with a wrought-iron balcony above. In addition, the hats in the display are inspired by hats worn by characters in the film. Throughout the lounge, Guests will also see full-sized streetcar on the St. Charles line. In addition, authentic wooden bench seating creates a cozy place to sit and listen to music.
Throughout the day, Guests will be able to participate in New Orleans-themed family activities, trivia, character meet-and-greets and music. In the evening Guests can enjoy live music on the lounge's gazebo stage, sip a New Orleans-themed specialty drink and dance the night away.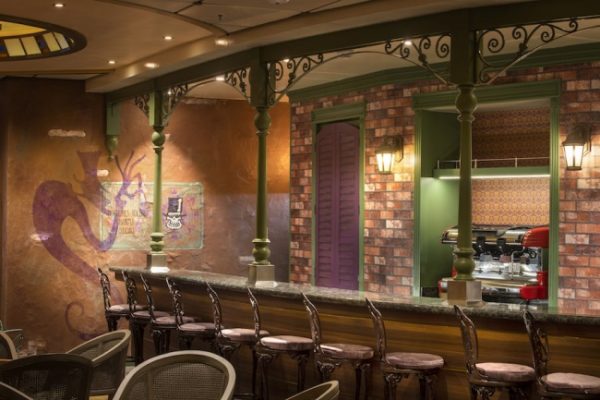 The bar itself is a focal part of the lounge with New Orleans-style wrought-iron adornments and shutters. Guests will be able to enjoy specialty cocktails, nonalcoholic beverages and coffees. The bar itself is inspired by the film's villain, Dr. Facilier. Here Guests will see a mural on the wall that features his shadow. There's also a door based on the entrance to Dr. Facilier's shop, with signage and three flickering "candles" overhead.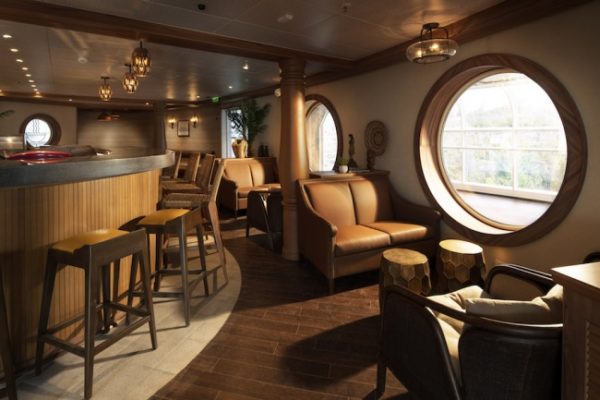 Other changes that occurred on the Disney Wonder is the reimagined Cove Café. This coffee shop features warm, comfortable and trendy décor, ample seating and ocean views and is the perfect place to sip a specialty coffee or tea throughout the day, or indulge in wine or a cocktail and light bites during the evening hours. In addition, Signals Bar has also received an update with a similar look.
Finally, Vibe, the space for teens ages 14-17, has transformed into a contemporary place to hang out with friends. The club has an open feel with a bright redesign that includes framed quotes on the walls, a light color palette and metal work. There's a new coffee bar and updated virtual reality technology now that helps to round out the changes.