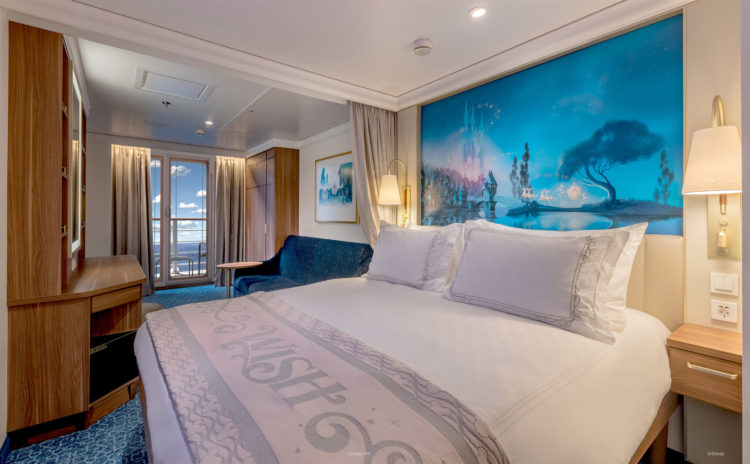 One of best parts of sailing on Disney Cruise Line are the staterooms. Disney has made their staterooms so luxurious that being in them is actually fun! And the Disney Wish will see fantastic updates to these spaces. Every stateroom on the Disney Wish will be a peaceful retreat designed with families in mind.
New for the Disney Wish, every stateroom will feature soft worlds and restful imagery of enchanted Disney fairytales. These will be found through glittering gold-leafed headboard murals and framed pieces commissioned exclusively for the Disney Wish. In line with the ship's overall design, stateroom artwork will represent classic and contemporary Disney stories, such as Cinderella. Other stateroom details will include delicate linen embroidery inspired by the fleet's signature golden filigree.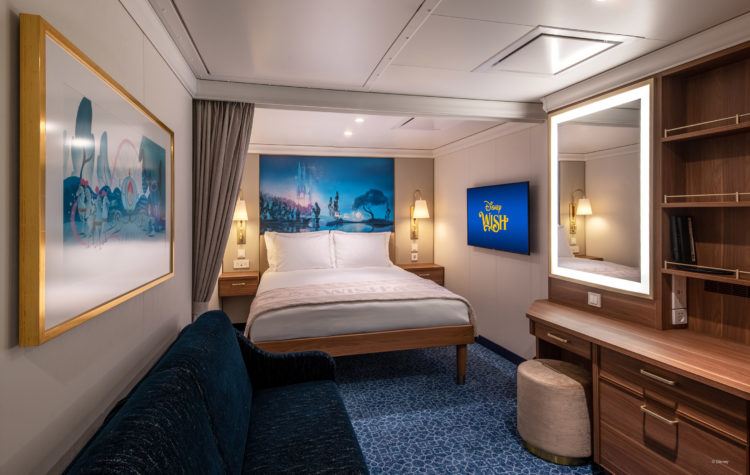 This trend even extends into the corridors, where you'll find richly themed carpeting, softly colored accent walls, magical lighting and unique adornments.
Every stateroom aboard the Disney Wish has been designed with ample room for families. Most of the ship's 1,254 staterooms will offer an ocean view, including 877 that will include a verandah. In addition, there will be 451 connecting doors that adjoin rooms to accommodate larger families. Some of these connecting staterooms will even have a partition between verandahs that may even be opened to create a bigger, shared balcony.
Most staterooms will feature Disney Cruise Line's signature split-bathroom concept. This includes a sink and shower in one room and a sink and toilet in a separate room. All will include a bathtub.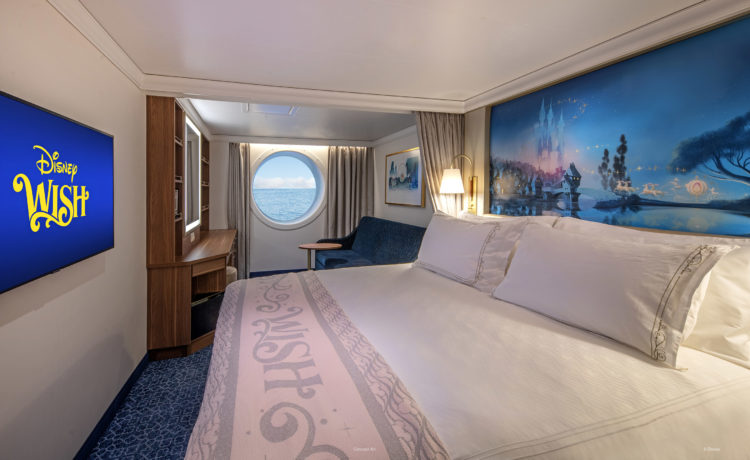 One of the most important aspects are storage space and options on the Disney Wish that will include roomy closets and elevated bed frames with generous under-bed space. These spots will provide plenty of places to store suitcases and other bulky items.
Little ones will find a secret starfield hidden above pull-down beds, with a constellation of Fairy Godmother overhead. Other stateroom amenities will include a 43-inch TV, USB and USB-C ports, large vanity, mini drawer refrigerator, full-length mirror, mini safe, hair dryer, privacy divider, queen and pull-out sofa beds, deluxe toiletries, plush robes, and lavish bed linens and duvets.
Concierge Staterooms, Suites and Service
The Disney Wish will have even more concierge staterooms and suites. There will be 76 total, which is more than double the number available on other Disney ships.
These concierge rooms will accommodate up to five guests. They will include spacious living areas, king beds, luxurious finishes and premium amenities. Most will include a private verandah, and most have been designed with the rich color palette and distinctive iconography of the film Tangled.
One-bedroom concierge suites will have a separate living room, walk-in closets, two 43-inch TVs and two bathrooms (including a master bathroom with rain shower, bathtub and double vanity).
Seven exclusive oceanview rooms are Disney's first-ever staterooms located above the bridge. These will have extended living areas with breathtaking views of the ocean through floor-to-ceiling windows that overlook the bow.
All concierge guests will receive a premium level of dedicated service, as well as access to exclusive areas and amenities. The Concierge Lounge will be more than triple the size from previous Disney ships and will offer a full bar, delicious light bites, special kids' area and an outdoor terrace. From the lounge, concierge Guests will have access to a private sun deck with two whirlpools, a wading pool, a bar, lush lounge furniture and the superlative service of a pool deck host.
Royal Suites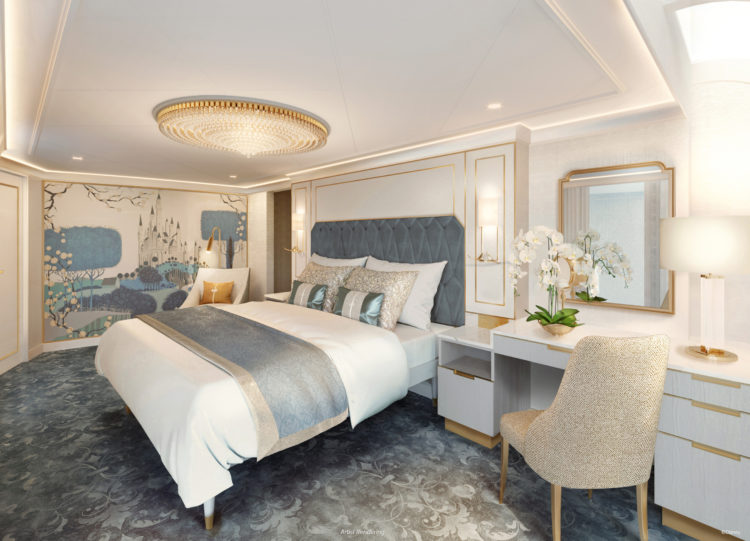 The Disney Wish will debut four royal suites that celebrate the story of Sleeping Beauty. There will be two Princess Aurora Royal Suites and two Briar Rose Royal Suites. Each pair includes a single-floor option and a two-story configuration, the first of their kind for the Disney fleet.
Royal suites will feature extravagant details, upscale furnishings and first-class amenities, including an extensive living area, open dining salon, sizeable pantry and private hot tub on the oversized verandah. Each suite has two master bedrooms, each with its own opulent bathroom featuring a double vanity and either a rain shower or bathtub. There will also be a double sleeper sofa in the living room and a third bathroom with a shower.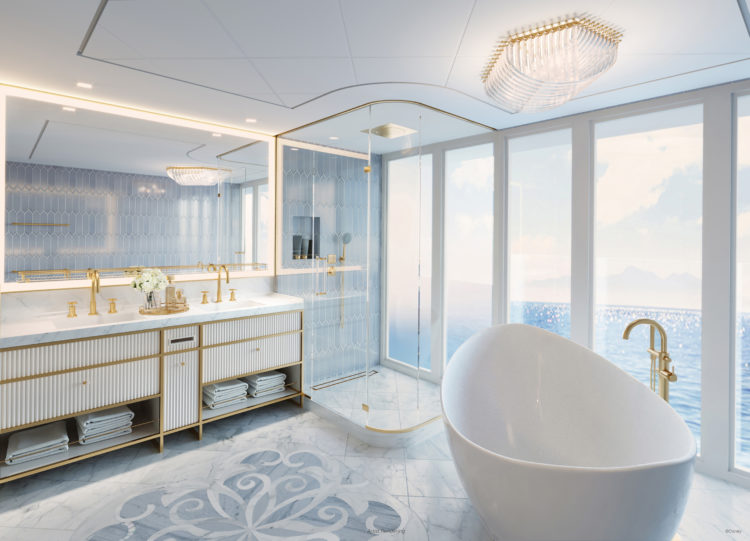 The two-story royal suites will feature floor-to-ceiling windows and stunning statement pieces, like an elegant spiral staircase and a spectacular two-deck-high bespoke stained-glass frieze.
The Disney Wish will set sail on her maiden voyage on June 9, 2022 and bookings open to the general public on May 27, 2021.