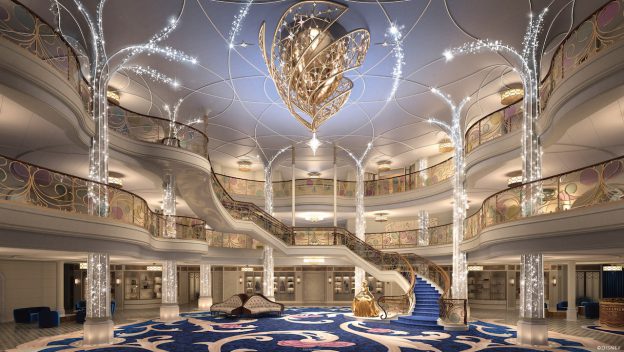 We are anxiously awaiting the ability to sail on the Disney Wish and today, Disney shared some great new footage to make us even more excited about their upcoming fifth ship.
The first big announcement was that it's not just the classic Disney films that will be included in this newest cruise ship. The Disney Wish will include representation that ranges from Disney, Pixar, Marvel, and Star Wars. And yes, the Disney Wish will still include the touches that we know and love that are a staple of a Disney Cruise Line ship. This includes a a classic, elegant design, as well as those emblematic Mickey Mouse colors. Another hallmark of Disney Cruise Line is the adornment of two-character art pieces on the hull of each ship. In a first, the Disney Wish will will feature Captain Minnie Mouse. Then on the stern, Guests will find Rapunzel who will be suspended by her golden tresses, as she decorates the exterior of the ship with Pascal.
There are a few new additions to the outward appearance. Once such addition includes a whimsical curvature to the deck edge along both sides of the Disney Wish. This curvature will create a sense of magic and visual movement both inside and out.
The Lobby
The Disney Wish is being seen as a castle on the sea. The Grand Hall lobby will definitely embody that aspect. It will be a bright, airy and elegant space that will welcome guests as they first step on board. It will include a fairytale castle-inspired design and will be touched with Gothic, Baroque and French Rococo influences that will give life to the columns, carvings, trimmings and adornments. Guests will want to be on the look out for glittering trails of pixie dust that climb the three-story columns. These will then make their way across the ceiling and will even animate the chandelier above. The chandelier, which is a staple in a Disney atrium lobby, will be a swirling spiral of crystal gems punctuated with light with a wishing star at the tip. (The chandelier resembles the magic that happened when the Fairy Godmother transformed Cinderella's dress into her ballgown.)
At the base of a grand staircase, Guests will see Cinderella as a beautiful bronze statue. Moving on in the lobby, there will also be other touches of Cinderella's story. They can be found on the railings that glisten with elegant stained glass in her signature colors, rich carpeting embellished with icons from the film, and nods to her carriage and glass slipper in the metalwork and light fixtures.
Want to learn more? This video shares some great visuals:
We'll have more details to share with you about the Disney Wish next week, so stay tuned!
The Disney Wish will set sail in the summer of 2022.