The more and more I learn about the Disney Wish the more excited I'm getting for my cruise in August! One of the things I love the most about cruising is, of course, food. I mean, who wouldn't? And the Disney Wish seems to have a number of fantastic dining establishments to experience.
1923
The first is 1923. This is a table service restaurant that is themed around the Walt Disney Animation. It's named after the year that Walt and his brother Roy started The Walt Disney Company, back on October 16, 1923. 1923 is one of the three main dining locations that Guests will enjoy on board the Disney Wish. This elegant restaurant combines classic Hollywood glamour with just a little bit of Disney whimsy, as well as a look at the evolution of Disney animation.
There will be more than 1,000 drawings, props, and other tools of the trade showcasing 16 Disney films that adorn the walls and ornate glass cases found around the restaurant. Stories that will be on display will include:
"Snow White and the Seven Dwarfs", the world's first feature-length animated film ever.
"Fantasia", a boundary-pushing project that introduced Fantasound
"Cinderella", which ushered in a new golden age of animated features.
"The Little Mermaid", a generation-defining classic that paved the way for other animated tales we love today.
The menu at 1923 will even pay homage to the company's roots in California. There will be sophisticated dishes inspired by the fusion of cultural flavors found throughout with a unique blend of Asian, European and South American cuisines. Oh and there will be plenty of world-famous Napa Valley wines available too.
Marceline Market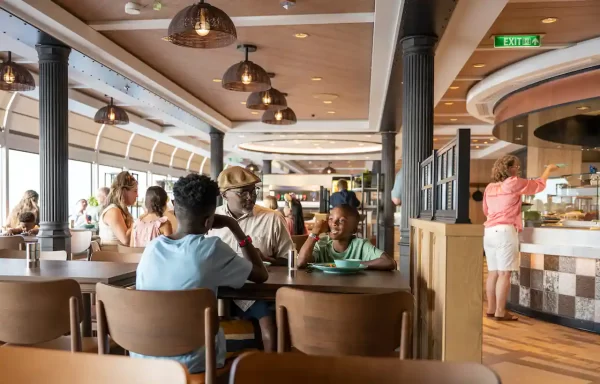 Marceline Market is a food hall named after the town of Marceline, Missouri. This is the place that make a huge impression on Walt as he grew up. At Marceline Market Guests will enjoy casual, walk-up dining throughout the day. There will be 10 food stalls that are themed to beloved Disney animated stories. They range from classics such as "Alice in Wonderland" to films like "Zootopia". Here the characters will be seen as honorary "shopkeepers," offering a wide-ranging variety of freshly prepared cuisines. Dishes will include American classics, international specialties, comfort foods, seafood, soups and salads, vegetarian and plant-based fare, baked goods, and desserts.
Follow The Mouse For Less for more information about the latest Disney Wish news.
For more Disney news and trip planning advice, follow The Mouse For Less on Facebook, Twitter, Instagram, YouTube, or TikTok.