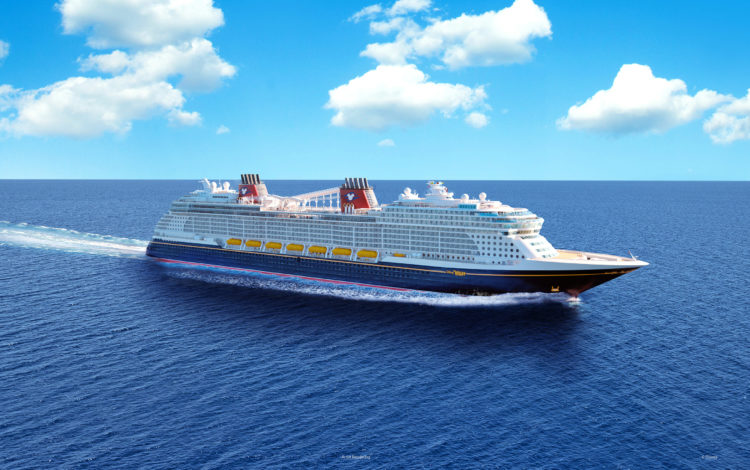 Who else is with me? Ever since it was announced, getting to sail on the the Disney Wish has been on my Disney bucket list. And I'll be able to do so beginning in the summer of 2022. After today's grand reveal though, my desire to get onto this ship has been amped up to a whole new level! So, let's dive in and first talk about just when you'll be able to set sail, as well as some of the fantastic common areas of the ship that Guests will be able to experience.
When Can I Set Sail on the Disney Wish?
First, let's start the biggest question. When will the Disney Wish set sail?
The Disney Wish, the fifth ship in the Disney Cruise Line fleet, will sail her maiden voyage on June 9, 2022. This will be a special five-night experience that includes two days at sea and stops in Nassau and Castaway Cay. Then, on June 14, 2022, Disney Vacation Club will host a three-night, members-only cruise to Castaway Cay. Following those two special cruises, the Disney Wish will sail three and four night cruises to Nassau in the Bahamas, and Disney's private island, Castaway Cay. Guests will depart from Port Canaveral, Florida.
Bookings for the Disney Wish open to the general public on May 27, 2021 for cruises departing June through September 2022. Castaway Club members, Disney Vacation Club members, Adventures by Disney Insiders and other select Disney guests will have early booking opportunities beginning May 17.
For more information, guests can visit the Disney Wish Itineraries page.
The Grand Hall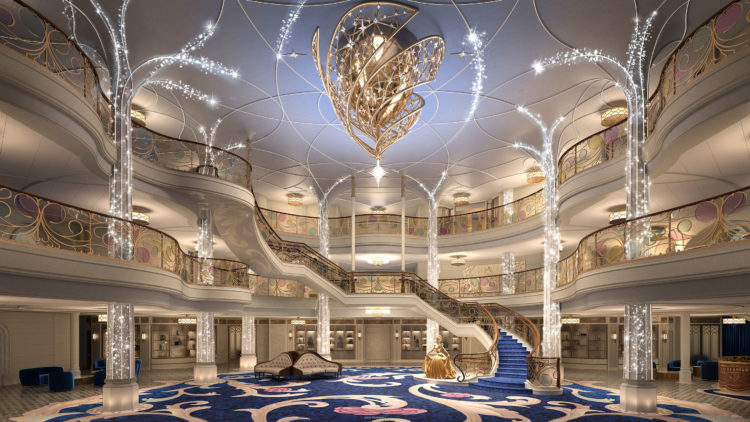 Disney is viewing the Disney Wish and especially the atrium lobby, called the Grand Hall, as a castle on the sea. The Grand Hall will be themed after Cinderella. It will be a bright, airy and elegant space that will include a fairytale castle-inspired design. There will be glittering trails of pixie dust that climb the three-story columns, spilling across the ceiling and animating the chandelier above. The chandelier will look like a swirling spiral of crystal gems and its crown jewel will be a wishing star. Moving to the base of a grand staircase, Guests will see Cinderella as a beautiful bronze statue. There will also be touches of Cinderella's story on the railings that glisten with elegant stained glass in her signature colors. Guests will also find that the rich carpeting will be embellished with icons from the film, and nods to Cinderella's carriage and glass slipper will be found in the delicate metalwork and light fixtures. More details about the Grand Lobby can be found here.
What is the AquaMouse?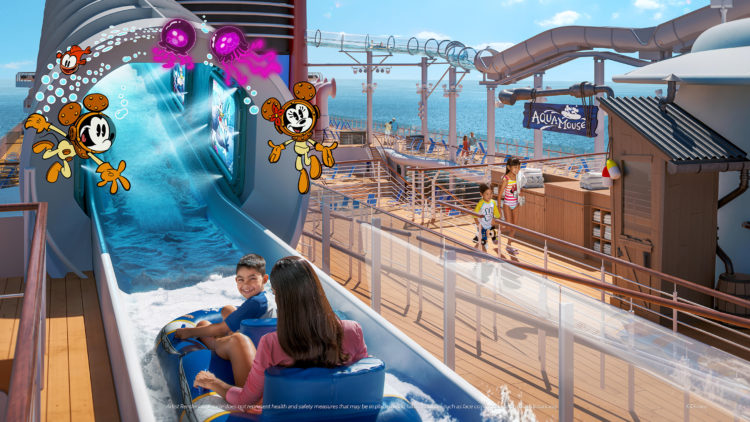 The top deck of a Disney Cruise Line ship is the place to go when you're looking for a little fun in the sun and quality family time. Disney Cruise Line ships are known for their "attraction" water slides. The Disney Dream and Disney Fantasy have the AquaDuck and the Magic features the AquaDunk. But new for the Disney Wish is a water attraction that takes things to the next level – the AquaMouse. The AquaMouse will be a brand-new family water attraction. It will bring to life the adventures of "The Wonderful World of Mickey Mouse" animated shorts like never before.
The AquaMouse, which will be the first-ever Disney attraction at sea. It will include show scenes, lighting and special effects, and splashtacular surprises. This first-of-its-kind water ride will send guests on a fun family adventure through 760 feet of winding tubes suspended high above the upper decks.
So, what's the story behind the AquaMouse? Well, Mickey and Minnie are starting their very own seaside excursion company called "Port Misadventures". Here cruisers will join the duo on an undersea excursion to Mermaid Lagoon that will definitely go wrong. Guests will board a two-seater ride vehicles. Here they will then ascend into a magical tunnel that will transport Guests into the cartoon world of "Scuba Scramble." This will be a new animated short that plays out through oversized virtual portholes. Along the way, Guests will encounter curious sea creatures, familiar Disney friends and more than 60 water effects. The attraction will be perfectly synched to an original musical score by Emmy-nominated composer Christopher Willis.
During the attraction, Guests will blast out of the tunnel and embark on a wild water ride around the upper decks. Guests will zip into the forward funnel through an enclosed tube surrounded by lighting effects. Then they will dash through a dark tunnel that opens up to reveal incredible views of the ocean. Guests will jet up and down a series of speed blasters as they are propelled toward the grand finale. The finale will be a soaring loop over the edge of the ship. Finally, there will be a splash down sendoff message from Mickey and Minnie!
Additional Top Deck Activities
In addition to AquaMouse, families will have more pools, more deck space and more dining than ever before. The top deck on the Disney Wish will be an expansive pool district that will be themed to Mickey and friends. Located on decks 11 and 12 midship there will be six pools of various sizes and depths. These pools will be spaciously staggered among tiered decks and surrounded by lounge chairs. Throughout the day, Guests will enjoy poolside entertainment on Funnel Vision, which will play Disney movies, TV shows, live sporting events and more. For families seeking a laid-back environment, another family pool will be available on deck 14 forward.
The upper decks of the Disney Wish will also feature brand-new food and beverage offerings too. These will including relaxed indoor dining and a fresh take on quick and casual fare. More details on these experiences will be released at a later date.
What Will Toddlers and Young Kids Be About To Experience?
Toddlers and young children be able to play in a Toy Story-themed waterplay district called the Toy Story Splash Zone. This water playground will feature Woody, Buzz and friends. They will be seen as larger-than-life rubber bath toys that move and spray water. The splash zone is inspired by the short, "Partysaurus Rex." It will combine the Old West of Woody's Roundup with the intergalactic world of Buzz Lightyear. There will be two toddler-sized slides and pop jets, geysers and bubblers galore. Plus, littles will be able to enjoy Slide-a-saurus Rex, which will be a double-looping waterslide!
This kid's pool district will also include Trixie's Falls. This will be a six-inch-deep wading pool with a small fountain and waterfall. And for those looking for a snack, enjoy Wheezy's Freezies, a smoothie bar serving up refreshing fruit blends.
What about the Adult Pool Areas?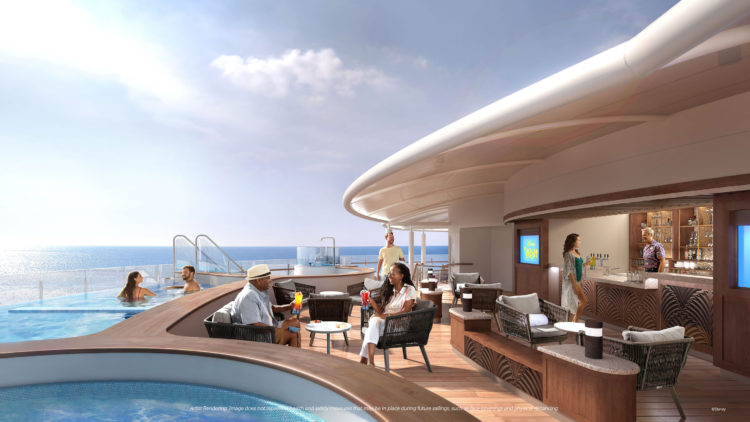 For those 18 and over, there will be Quiet Cove. This will be a secluded adults-only district dedicated to lounging, sipping and soaking. This area will be set away from the family areas at the back of the ship. Quiet Cove will offer breathtaking views of the ocean from a luxurious infinity pool. Adults will be able to take a dip in the pool, unwind in a whirlpool spa and relax in a chaise lounge. They can even indulge in a beverage from Cove Bar, an open-air bar offering beer, wine and cocktails. Also, over in the Cove Cafe, Guests will find a poolside lounge that offers gourmet coffees, teas, specialty drinks and treats throughout the day. The theme of the Cove Bar will revolve around Oceania-inspired artistry of the film, Moana.
If you want to learn more about the Disney Wish, take a look at the webcast that shows off this ship here: