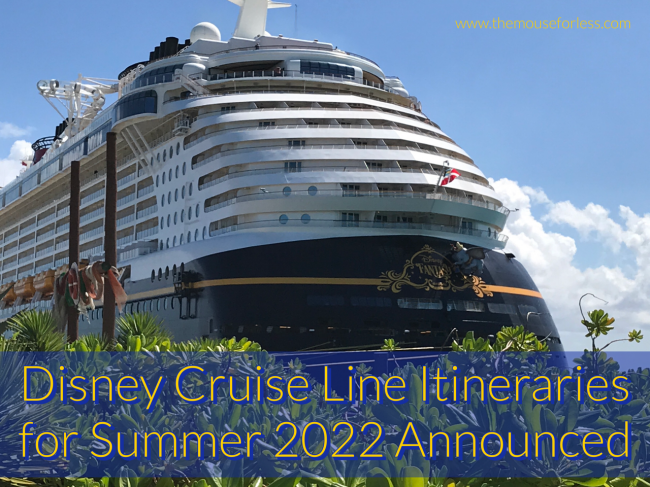 We know that many of you are itching to sail on Disney Cruise Line once again, and if that's the case, Disney Cruise Line will be opening up their summer 2022 voyages soon! Best of all, there are not only stops in favorite ports, but also brand new destinations like the Greek Isles, Mediterranean, northern Europe, Alaska and the Caribbean. Plus, first-ever summer departures from Miami will take guests to Disney's enchanting private island in the Bahamas, Castaway Cay.
Disney Magic
In summer 2022, the Disney Magic will set sail for new destinations in Europe, which begins with sailings through the Greek Isles and Mediterranean. This is before heading to northern Europe for cruises to the Baltic, the British Isles, Iceland and the Norwegian fjords. The Disney Magic will also visit five new ports of call in Europe include Chania, Greece; Porto, Portugal; Riga, Latvia; Maloy, Norway; and Nynashamn, Sweden, near Stockholm.
In addition, there will be eight, nine and 12-night cruises to Greece taking cruisers to destinations like Piraeus, the gateway to Athens, and to the Greek islands of Santorini and Mykonos. There will also be one nine-night sailing that will include Disney Cruise Line's first call to Chania, Greece, on the island of Crete.
Also being offered will be Mediterranean voyages from Barcelona, Spain, which will visit places like Rome and Naples, plus French Riviera coastal towns like Villefranche and Cannes. During a seven-night cruise from Barcelona to Dover, England, Disney Cruise Line will make its first-ever visit to Porto, Portugal, a coastal city with old-world charm nestled in one of the world's leading wine regions and made famous for giving Port Wine its name.
Additional new ports of call in northern Europe include Riga, the capital of Latvia and the largest metropolis in the Baltics; Nynashamn, Sweden, a beautiful seaside town just outside Stockholm; and Maloy, Norway, a charming coastal village bordered by silver-sand beaches and historic lighthouses.
Disney Wonder
The Disney Wonder will return to Alaska in the summer of 2022. The Wonder will depart from Vancouver, Canada. Most of these seven-night cruises will visit Dawes Glacier, Skagway, Juneau and Ketchikan. Two of the cruises will call on Icy Strait Point in place of Skagway.
Disney Dream
For the first time ever, the Disney Dream will be sailing out of Miami during the summer season. Every cruise from Miami in the summer of 2022 features a stop at Disney's private island paradise, Castway Cay. The Disney Dream's inaugural cruise from Miami, will be on June 7. The ship has previously only homeported in Port Canaveral, Florida.
In addition to visiting Castaway Cay, three and four-night cruises from Miami will call on Nassau, Bahamas, while five-night cruises include a stop at either Grand Cayman or Cozumel, Mexico. One special five-night sailing features two stops at Castaway Cay, along with a stop in Nassau.
Disney Fantasy
The Disney Fantasy will sail from Port Canaveral and each Disney Fantasy voyage features a visit to Castaway Cay. The Disney Fantasy will embark on itineraries to the eastern and western Caribbean throughout the summer of 2022, including seven-night voyages, a special five-night sailing, and an extended nine-night cruise thatt features a first-time call on Roseau, Dominica, which is an eastern Caribbean destination filled with natural hot springs, exquisite waterfalls and tropical rainforests.
Disney Wish
As previously announced, the Disney Wish is scheduled to sail its maiden voyage in summer 2022. However, there has been no information released about its itineraries, nor when the ship will be able to begin to be booked.  The Disney Wish will be powered by liquified natural gas, or LNG, one of the cleanest-burning fuels available. It will weigh approximately 144,000 gross tons and it will include 1,250 guest staterooms. The Disney Wish will be slightly larger than the Disney Dream and Disney Fantasy.
Bookings for all Disney Cruise Line sailings open to the public on March 25, 2021.