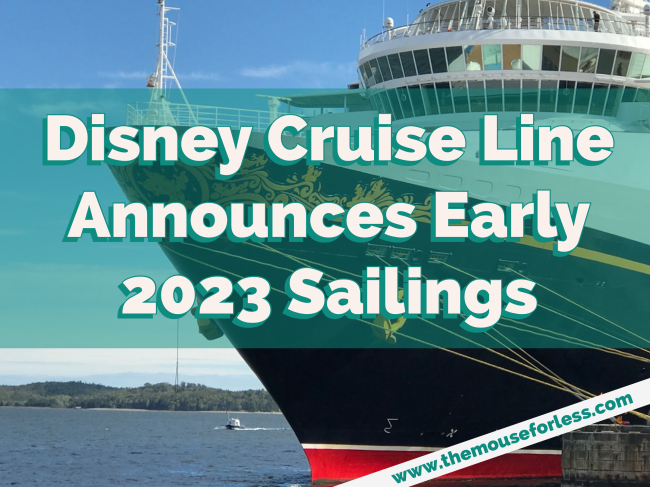 It's almost time to book early 2023 Disney Cruise Line Sailings! For the first few months of the year, Disney Cruise Line will return to top tropical destinations in the Bahamas, like Disney's private island, Castaway Cay, as well as the Caribbean and the Mexican Riviera. Guests will be able to sail from ports including Miami and Port Canaveral, Florida; New Orleans; Galveston, Texas; and San Diego.
Disney Wish, Disney Fantasy, & Disney Dream Sailings
In early 2023, Disney Cruise Line Guests sailing on both the Disney Wish and the Disney Fantasy will be able to visit locations throughout the Bahamas and Caribbean via Port Canaveral. In addition, the Disney Dream will depart from Miami. Every cruise from Florida includes a visit to Disney's private island, Castaway Cay.
Departing from Port Canaveral, the Disney Wish will sail three- and four-night voyages to Nassau, Bahamas and Castaway Cay. Also the Disney Fantasy will begin the year with seven-night sailings in the Eastern and Western Caribbean. Plus, there will be one unique eight-night sailing that includes two days in beautiful Bermuda.
From Miami, the Disney Dream will embark on four- and five-night cruises to locales including Grand Cayman, Nassau, Castaway Cay and Cozumel, Mexico. There is even one special five-night cruise that includes two stops at Castaway Cay.
Disney Magic Sailings
In January and February, the Disney Magic will sail from Galveston, Texas, on a variety of four-, five-, six- and seven-night itineraries to the Bahamas and Western Caribbean. Ports of call on these sailings include Grand Cayman as well as Cozumel and Progreso, Mexico.
Then in February and March, the Disney Magic is "going down the bayou" for the first time during a debut season in New Orleans. The Magic will embark on four-, five- and six-night sailings to tropical destinations like Grand Cayman and Cozumel. All early 2023 Disney Magic voyages include two or three days at sea to enjoy the unlimited fun, entertainment, relaxation and memories onboard.
Disney Wonder Sailings
The Disney Wonder will return to the West Coast, sailing from San Diego in April and May. Cruises will include Baja, Mexico and the Mexican Riviera. Sailings from San Diego will last from three to seven nights. Some sailings to the Baja peninsula will sail to Ensenada. Also, many departures will include a visit to Cabo San Lucas. There will also be a seven-night itinerary that will sail to Mazatlan, the "Pearl of the Pacific," and to Puerto Vallarta.
When Can I Book My Early 2023 Cruise?
Are you looking to sail in early 2023? Guests will be able to book on the following dates:
On October 14, bookings open for Disney Cruise Line Platinum Members, Golden Oak Club Members and Club 33 Members.
October 15 is when bookings open for Disney Cruise Line Gold Members.
Guests can book on October 18 for Disney Cruise Line Silver Members, Disney Vacation Club Members and Adventures by Disney Insiders.
All Guests can book on October 21
Will you be sailing in early 2023?