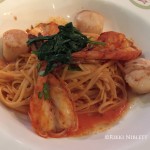 Print Recipe
Grilled Shrimp and Seared Scallops Pasta Pirate's in the Caribbean Night Menu
I'm getting ready to go cruising again aboard the glorious Disney Dream! It's such an amazing vacation and I'm so excited to get the chance to do it again. One of my favorite nights is the Pirates in the Caribbean evening.  There's fireworks, dance parties, and of course, lots of food. One of the great dishes is the Grilled Shrimp and Seared Scallops Pasta served in all of the different restaurants that evening.  This is clearly something I'm excited to get to eat once again
Cook linguine according to package directions.

Drain and mix with spaghetti sauce. Keep warm.

Sauté garlic in 2 tablespoons butter until golden.

Add spinach and cook until wilted.

Season with salt and pepper and set aside.

Heat remaining 3 tablespoons butter in a skillet over medium-high heat.

Add shrimp and scallops, and cook about 3 minutes or until shrimp turns pink and scallops are white, turning once.

Top pasta with cooked spinach, and serve with shrimp and scallops arranged around the pasta.