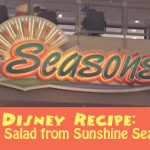 Print Recipe
Lentil Salad from The Land Pavilion
Sunshine Seasons found in The Land Pavilion at Epcot is a fan favorite because it offers a lot of unique options that most people don't often think can be enjoyed in a theme park. Items include things like rotisserie chicken, Asian Shrimp Stir Fry, and more. Such is the case with today's recipe. I'm sharing how to make the yummy Lentil Salad! I hope you enjoy!
Method of Preparation

Place lentils in a saucepan with water to cover the lentils.

Drain and cool.

In pan, add olive oil.

Grill zucchini, squash, red bell pepper and mushrooms.

Let cool.

In a bowl, add lentils and grilled vegetables.

Mix the olive oil and vinegar and add to lentil mixture.

Add diced onions.

Season with salt and pepper.

Store in refrigerator in air-tight container.