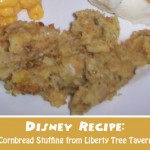 Print Recipe
Cornbread Stuffing Liberty Tree Tavern- Magic Kingdom
Who is ready to celebrate the holiday with your family and friends? Here is the cornbread stuffing recipe from Liberty Tree Tavern. Stuffing is such an integral part of Thanksgiving. (And it's one of the most delicious!) So, let's get to cooking!
large skillet, mixing bowl, measuring spoons, measuring cups
In a preheated 400° oven, toast cornbread cubes 5 to 7 minutes or until barely golden

Meanwhile, In a large skillet over medium heat cook garlic, onions and celery for 3 minutes or until softened.

Transfer to a bowl and add the bread cubes, herbs, salt, pepper, and chicken broth.

Toss well and add more seasoning if desired.

Additional broth may be necessary to achieve the desired moisture consistency.