This post may contains affiliate links for your convenience. If you make a purchase after clicking a link we may earn a small commission but it won't cost you a penny more! Read our full disclosure policy here.
It's all about your pilot.
If you don't believe me just ask my husband.
I never knew what a Galactic Hero was until I became one on one day in October 2009. It began like every other Tomorrowland adventure in space. The line was not very long for Buzz Lightyear's Space Ranger Spin. As we waited, I tried to take pictures of Buzz but was disappointed that I couldn't get a clear picture of his computer generated face as it spoke to me. This quickly left my mind as one thought entered it: I must beat Jim.
On our previous trip to Florida two years earlier, my husband, Jim, and I had visited Universal Studios and he was STILL gloating over his score on the Men in Black ride. I was determined to show him I had skills as well.
As we entered our spacecraft, Jim said he would drive. Fine, I thought, I can concentrate on shooting. And that is what I did. I shot. And I didn't stop shooting. Aliens started popping up everywhere and I just kept shooting them. I have heard about being in the zone but I had never experienced it before.
Jim looked over and said, "Wow, what are you doing?"
I said, "I think I'm beating you… and by a lot!"
I continued to shoot non-stop in each room we entered. But suddenly something was wrong. My score stopped climbing. I knew I was still hitting my targets. What was wrong?
"Jim, something's wrong. My gun's broke. My score is locked up at 999,999."
He looked at my score and laughed. "I don't think it's broke. I think you maxed it out!"
As we reached the end of the ride we read the Space Ranger rankings:
Space Cadet – 1,000 to 9,999 points
Space Scout  -10,000 to 99,999
Space Ranger 1st Class – 100,000 to 199,999
Planetary Pilot – 200,000 to 299,999
Space Ace – 300,000 to 599,999
Cosmic Commando – 600,000 to 899,999
Galactic Hero – 900,000 to 999,999
I was really pumped!
This was when I found out why I had done so well.
Jim was driving. Not only was he extremely skilled as a pilot, he allowed me to concentrate fully on shooting while sacrificing his own ability to perform well. Really if I was Galactic Hero, there should be a bigger, better name for his role.
We briefly (as usual) looked around the gift shop and headed over to look at the ride photo. I was convinced a Galactic Hero would look tough. Wrong. I am a tongue-sticker-outer. When deep in concentration, my tongue comes out of nowhere and there it was, messing up my moment.
It didn't matter because my dear husband was bragging about me to the cast member at the photo counter, who promptly said I definitely needed a pin. He gave me a button that read "I'm celebrating because I'm a Galactic Hero." I proudly put it on and we left.
Then I saw him; surrounded by children but I knew I must have my moment. I got in line and waited my turn. When I reached the front of the line, I proudly showed Buzz Lightyear my button and he shook my hand. I had my picture taken with him. We then parted to go to infinity and beyond.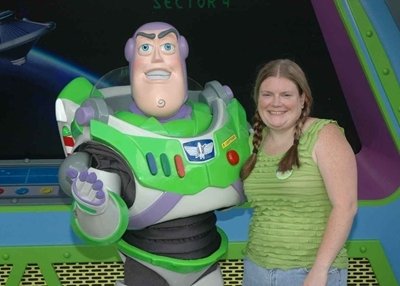 Incoming search terms:
what is a disney galactic hero