This post may contains affiliate links for your convenience. If you make a purchase after clicking a link we may earn a small commission but it won't cost you a penny more! Read our full disclosure policy here.
Last year some friends were planning their first trip to WDW.  As I was talking to them about their upcoming trip, I mentioned a couple of great photo areas.  The mother responded that they were not big photograph people and didn't think they were going to bother taking a camera.  While I found this information difficult to process, I realized that not everyone captures memories the same way I do.  But for people like me who love to look back at pictures to help recall the events and emotions of the day, here are some suggestions that have helped me capture our Disney memories in pictures.  When I put our pictures together after the trip, I don't journal a whole lot.  I like to let the pictures tell the story.
Staring Out:
You may have never thought of taking WDW vacation pictures before you leave home, but such pictures make a great beginning to your photo journal or scrapbook.  If you have been marking a countdown calendar, take a picture of the kids marking off the last day.  A picture of the luggage or packed car is a fun way to say, "We're ready to go!"  You could even take a picture of the kids in the car, "Next Stop, Disney World!"
On the Way:
If you are driving, take advantage of photo opportunities along the way.  Depending on how far you are driving you may have more opportunities than others.  Pictures of state lines or "Welcome to Florida" signs are fun.  You may want to stop at Florida's Welcome Center for some free orange juice and a few pictures.
If you are flying, take a picture of the boarding gate that says, "Orlando."  A picture on the airplane can convey your family's excitement about the trip.  Pictures in front of and on Disney's Magical Express shuttle are fun too.
Upon Arrival:
As you enter Disney World consider taking a picture of the park signs that span the roadways.  If there is an area to pull over and get a picture, do that.  Otherwise, have a passenger snap a shot from the car.
Whether you are staying on Disney property or not, a picture of your hotel is a must for your photo journal.  You could take a check-in picture, a picture of your room, a picture of the pool or other scenic areas.  A friend of mine has a picture of her family eating breakfast in the room at one of the value resorts.  It turned out to be a cute picture that really captured a memory.  We have also enjoyed taking pictures of the towel animals and other fun arrangements Mousekeeping has left in our rooms.
At the Parks:
There are so many great photo opportunities at the parks that I cannot list them all here.  Whenever you see a Disney photographer, you can bet he or she is working a great photo op area.  The CM will happily take a picture for you with your camera if you ask.  But don't limit yourself to the obvious places.
It may seem obvious to take a picture of each attraction you enjoy, but when you are caught up in the excitement of getting in line, it is easy to forget to get a picture.  I have learned to gather the family around the attraction sign after we have ridden it.  I prefer these pictures to have all four of my family members in it, and I have gotten quite comfortable asking strangers to take our pictures.  I encourage you to do the same.  It's Disney World, after all.  People are happy to be there and tend to be happy to accommodate your photographic needs.  Quite frequently I have been able to return the favor for a stranger.
Also keep in mind that you can take pictures on the rides themselves.  I keep my camera in a ziplock bag in my fanny pack, so I can take it on all the rides—even the wet ones—and sneak a few pictures of the kids during the ride.  Many of these pictures are candid and capture such wonderful expressions of amazement and enjoyment.
Another great opportunity for candid pictures of your party are at the parades, shows, and firework displays.  It's fun to have a few pictures of the parades and shows themselves, but the pictures I am draw to year after year as I look back through my albums are the pictures of my children watching the shows.  One of my favorites is a picture of my boys in their double jog stroller watching the Hollywood Studios parade.  You can see a Power Ranger or two in the background, but the foreground contains the magical expressions of wonder on the faces of my two- and four-year-old little boys, framed in their mouse ears that were ubiquitous on that particular trip.
Years ago a friend gave me a tip about taking vacation pictures.  He said never take a picture without a person in it.  Ten years from now, you won't care as much about the scenic beauty as you will about seeing a loved one in the photo.  I have found this to be good advice, and while a few of my pictures do not include a person, most do.
My pictures that do not include people tend to be pictures of food.  I realize that is may sound odd at first, but my family has enjoyed the free dining on our trips.  The food and the restaurants are a fun and important part of our vacation.  We have our picture taken in front of the restaurant marquee, and we take a picture of the table—a bird's eye view—once the food is served.  This is a great way to recall the meals we enjoyed, and the pictures tend to be very pretty.  Friends looking through my pictures have often made comments of wanting to try a particular restaurant after seeing the food.  And don't forget to take a picture of the desserts!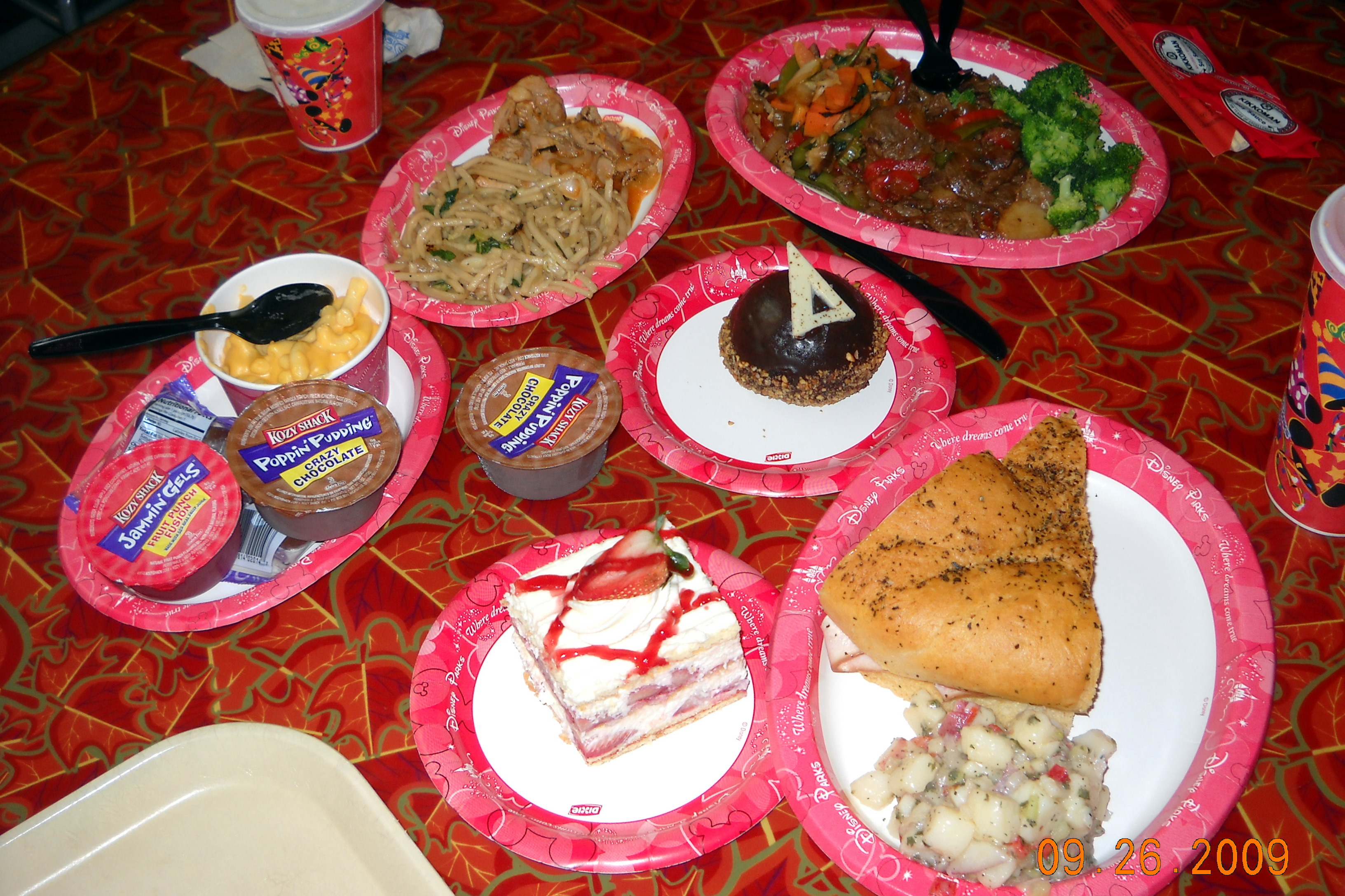 Upon Departure:
Every story has an ending, and the same is true for the story you are telling in pictures.  If your children are young, get some pictures of them sleeping at the end of the day.  They may fall asleep in the parks, on the shuttle, or simply snuggled up in bed, and these become sweet pictures that recall a fun-filled day.
Take pictures as you are leaving the parks each evening as well.  The "walking away" pictures can be so sweet.  Let your family get a little ahead of you and snap a shot of them from behind as they are exiting the park.  (Walking away shots are great throughout the parks as well.)
There is so much more to say about the great photo opportunities all around WDW.  Guidebooks and webpages abound that list the best photo ops in the various parks and at downtown Disney, and they are worth perusing.  But in my opinion, the best photo ops are dictated by the expressions on the faces of your loved ones and by the story you are recording through photography.