The Mouse For Less Blog Wants You!
|
This post may contains affiliate links for your convenience. If you make a purchase after clicking a link we may earn a small commission but it won't cost you a penny more! Read our full disclosure policy here.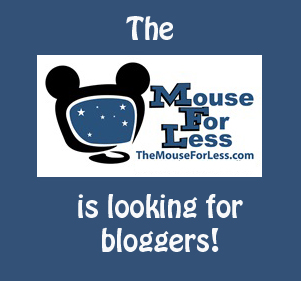 The Mouse For Less Blog is looking for bloggers and you could join our family!
We are looking to grow the blog, so we are looking for those who would like to volunteer to write; those who are passionate about not only Walt Disney World, but we are also looking for those who may love Disneyland, Disney Cruise Line, or Universal Orlando Resort! (We are especially in need of bloggers who want to write about Disneyland, Disney Cruise Line, or Universal Orlando Resort!)
In exchange for your time, we do offer a quarterly incentive program as a thank you for writing articles for the MFL blog.  If this sounds like something you would be interested in, then read further!
The Mouse For Less Blog has a few requirements for articles that include:
You are able to write at least one 400-1000 word article (at least) approximately every two weeks.  Blogs should be original and not copy and pasted from other websites you may blog for.
You can write clearly with minimal grammatical or spelling mistakes.  Also, articles cannot be acronym heavy. (I know, we all love our Disney acronyms, but not everyone reading these articles will know what TTC, SDMT, or POR means.)
You know how to produce articles in WordPress or are willing to learn. (We have a great cheat sheet for those who don't already know!)
Articles must include at least one image, preferably more, so you must be able to take photos that not only can be used for the blog, but you must be able to create one image that can be pinnable for Pinterest. (A pinnable image is one that has text that overlays the photo, that includes the title of the article or at least a good explanation of the topic. We have a cheat sheet for that too!)  In addition, images must not be copyrighted images.
Topics can be about anything related to Disney (or Universal Studios)
Ok, so I want to write for The Mouse For Less Blog, what do I do next?
Please send a writing sample (including photos…but don't worry about making one pinnable just yet) to rikki@magically-speaking.com with the subject "MFL Blog Opportunity".  The sample blog post should be your "Best Tip for Experiencing __________."  (Either Walt Disney World, Disneyland, Universal Orlando Resort, or Disney Cruise Line.)  Articles may be sent as a Word doc, a PDF, or a Google doc. Please do not send your article in the text of the email.
Also, we want to get to know you a little bit, so in your email, if you could, tell us a little about yourself and why you'd like to write for us.
If you have never blogged before and you are wanting to give it a shot, please send in a sample! And if you already blog for another site, that's ok too! We have plenty of people in the family who currently do that.
In addition, if you have any questions, what-so-ever, please email me at rikki@magically-speaking.com and I will be happy to answer them!
The deadline for submitting articles is October 31.
If we're interested in having you blog for us, we'll contact you with the next steps in the process. Just be aware that we may not be able to reply to everyone interested in blogging.
In addition, if maybe you don't want to blog, but you know someone who you think would be really good at it (like a friend who writes really great trip reports, etc) make sure to pass this opportunity along to them! Also, if you could, please share this opportunity with your social media sites.
If you have ever wanted to be a blogger for The Mouse For Less Blog, now is the time, now is the best time! (Get it?! Oh, I'm punny!)  Seriously though, we have quite a few opportunities available and we would love to have you as part of the Mouse For Less Blogging family!