This post may contains affiliate links for your convenience. If you make a purchase after clicking a link we may earn a small commission but it won't cost you a penny more! Read our full disclosure policy here.
Last September my great friend and business partner here at The Magic For Less Travel, Ric Flack, and I spent a long guys only weekend in Orlando.  We packed in a lot of Orlando park time including a day each at Universal Studios, Islands of Adventure, and Sea World followed by a few days at the Walt Disney World Resort, including a day at Typhoon Lagoon.  We only had a few days at the end of our trip to enjoy all four of the Disney Theme Parks so we decided we'd try to accomplish what really only seasoned guests of the Walt Disney World Resort might attempt – the Four Park One Day Blitz!We had strategically mapped out the attractions we wanted to hit at each park on our all day tour of the four parks and after an early morning breakfast at our resort, Kidani Village, we were off to achieve a goal!  We had rented a car for this trip which made hopping from park to park easy and since we had visited each Theme Park a more than a few dozen times before on prior trips we were ready to shift gears and change plans if time ran short.We began our day early with the rope drop at Disney's Animal Kingdom Park by obtaining Fastpasses for Expedition Everest, catching the Festival of the Lion King, meeting Mickey, Minnie, Donald and Pluto, taking a quick spin on Primeval Whirl and then redeeming our Everest Fastpasses for a front seat ride to encounter the Yeti.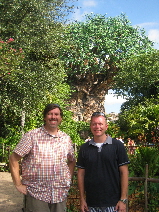 After Animal Kingdom we quickly made our way over to Disney's Hollywood Studios with the two big thrill rides on our to do list:  Rock'n'Roller Coaster and the Tower of Terror (we decided to save Toy Story Midway Mania for the next morning).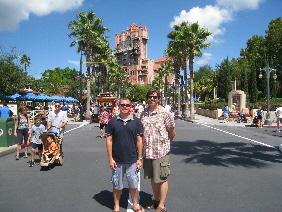 After our thrills on the two attractions at the Studios the heat was beginning to become extreme and we wondered would we make it to the end of the day?  After cooling off with a refreshing swim back at Kidani Village and winning Disney Pool Trivia we were ready to tackle the rest of the day.
We decided to take a Disney bus over to Epcot where we had dinner reservations at Coral Reef.  We obtained Fastpasses for Soarin' and after dinner took a flight over the state of California.  We also were able to take a spin on Test Track and Spaceship Earth before darkness began to set.
While it was strange to hit Epcot and not visit World Showcase we wanted to meet our goal of hitting all four parks so we took the monorail over to visit the Magic Kingdom for the evening where Extra Magic Hours were being held.
Upon entering the Magic Kingdom we had achieved our goal of the Disney Grand Slam!  We hit all of our favorite Magic Kingdom attractions including Space Mountain, Big Thunder Mountain, the Haunted Mansion and Splash Mountain (where we got wetter than ever before).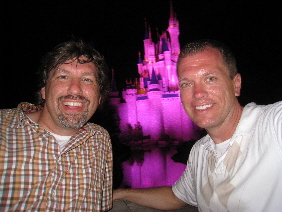 It was about 2 am when we finally got back to our 1 bedroom villa at Kidani Village and while we were excited to have accomplished hitting all four of the Disney Theme Parks in one day we both agreed it was fun, but extremely tiring.  We don't recommend this type of touring for all our guests, but we have great memories of our full day that day and now are in the elite Grand Slam club!