Foodie Friday: The Boulangerie Patisserie at Epcot's France Pavilion
|
This post may contains affiliate links for your convenience. If you make a purchase after clicking a link we may earn a small commission but it won't cost you a penny more! Read our full disclosure policy here.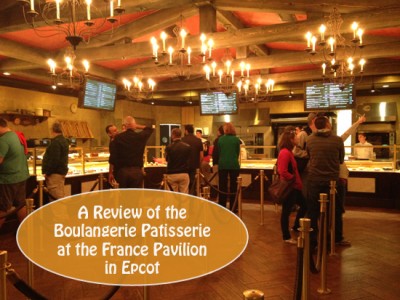 The Boulangerie Patisserie is a hidden spot in the back of the France Pavilion at Epcot.  Did you know it was back there? It's a great spot to grab a pastry and a cup of coffee and start your day at the park, or enjoy a nice dessert or snack when traveling World Showcase. But did you know that the quick stop also served up a few small savory options too? That's right. Boulangerie Patisserie also serves up things that can make for a nice light lunch or dinner.
The Boulangerie Patisserie is located all the way in the back of the pavilion. You actually have to go past Les Artisan des Glaces and into the store to get to it. There is a small seating area available, however it is often packed with Guests enjoying their treats. You may need to find seating elsewhere.
The shop is a warm and inviting place, and how could it not be? There are tons of great treats staring at you to choose from. A favorite is the éclair, Napoleon, and the crème brulee.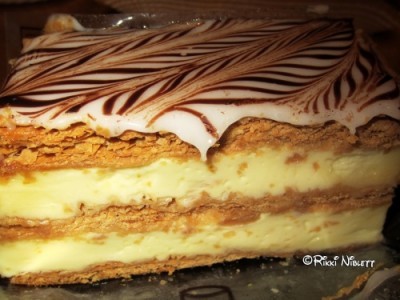 Napoleon
However, for those looking for lunch and dinner offerings, they serve up nice salads, cold and hot sandwiches, quiche, and soups in bread bowls. Yep, that's right, I said soup in bread bowls!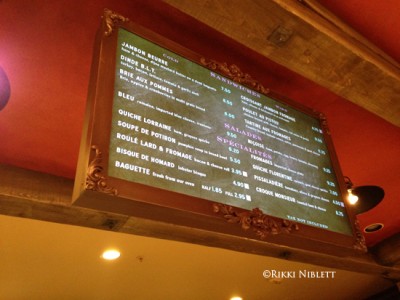 Now, most people don't enjoy soup when it's summer time and it's a million degrees outside, however in the fall and winter months, a bowl of soup sounds delightful. So, in November, I decided that I had to try one of these soups.
There are always a couple of options to choose from including a lobster bisque (which I had wanted to try, but they were out of it at the time.) I decided to go for the seasonal offering of pumpkin soup.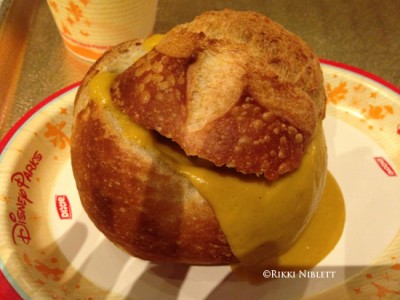 I love a good pumpkin soup. The buttery flavors mixed with spices are always quite delightful. So, as soon as I saw that this was a menu offering, I knew I had to try it.
This soup was quite good, however, I feel like it wasn't as flavorful as I would have liked. It was a tad blander than I had hoped it would be. It still had a creamy taste, but the spices like nutmeg were almost non-existent. The bread bowl was a great was to serve the soup in though, and it was quite delicious. It was flaky and crusty.
I am very happy that I was finally able to try the Boulangarie Patisserie's savory options and I will certainly be back again for another great delicacy. I just wonder which one I will choose. Will it be a sandwich, a cheese plate, or more soup?  Decisions, decisions.