Foodie Friday: How Mobile Dine Check-In Works at Walt Disney World
|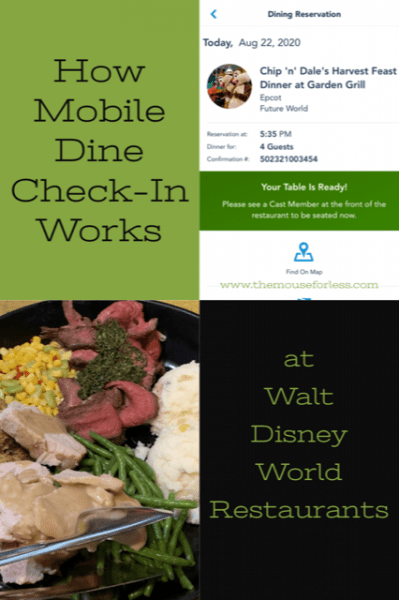 When the parks reopened from their COVID closure, the Walt Disney World Resort introduced a brand new way for Guests to be able to check in for their table service dining reservation, without having to check in at the main podium, therefore limiting interactions between them and the Cast Member. Find out more about this new process here.
On our recent visit, we decided to test out how the Mobile Dine Check-In actually works and we can easily say that it works like a dream.
First, in order to utilize this handy tool, you'll need to make sure you not only have the dining reservation made, but also that you have the My Disney Experience app downloaded on your phone. You'll see your dining reservation on the app and when it's time to check in you'll be able to click to start the Mobile Dine Check-In Process.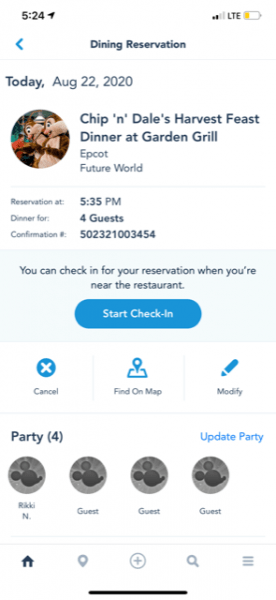 Once you click to start the check-in process, you'll indicate who is in your party – how many adults and how many children. You'll also be able to indicate how many infants are in your party too.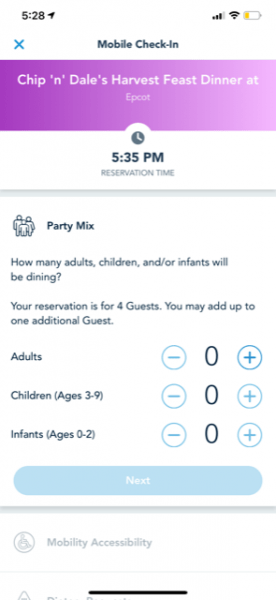 Next, you'll then be able to note if anyone in your party has mobility needs, that way they can set your table in an accessible spot, should you need it.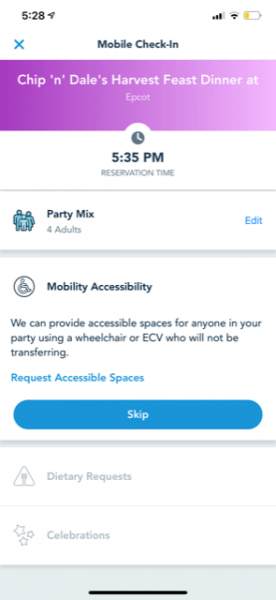 From there, you can designate if anyone in your party has any dietary restrictions, such as dairy, gluten, peanuts, shellfish, soy, and more. If you have a different allergy, just make sure to let them know when you are seated.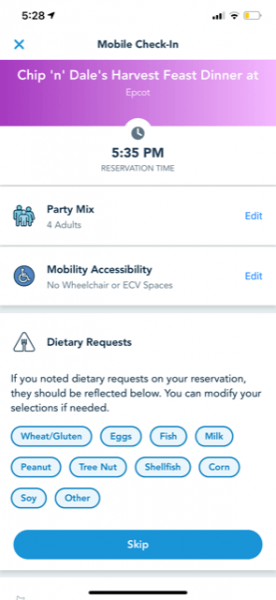 If you're party is celebrating any special occasions, like a birthday or anniversary, you can then mark that here.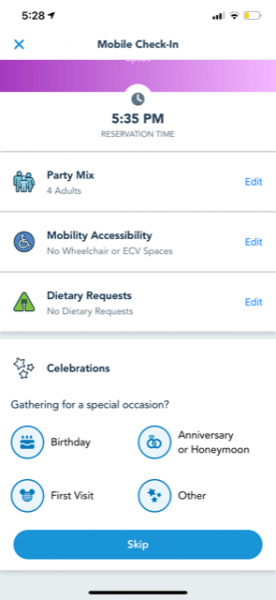 When you are satisfied, you'll then hit submit to send your information to the main podium.
Tada!! You're all checked in!!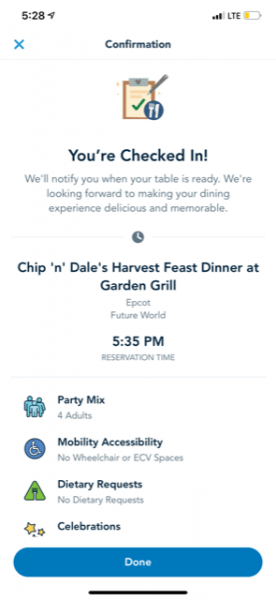 When you're table is ready, you will get notified via message. Make sure you have push notifications turned on for the My Disney Experience app to easily have it pop up.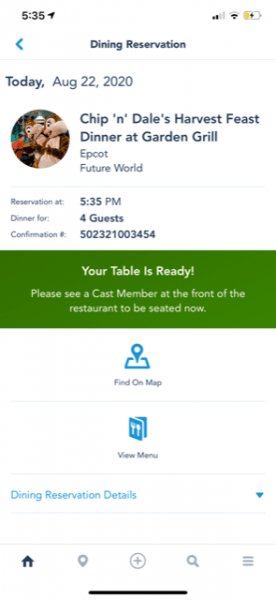 And soon, you'll be dining on a delicious Disney meal!
Overall, the process was very simple and worked very easily. If you do have any issues, Disney Cast Members will still be there at the podium to assist you. I loved this process and will definitely use it moving forward! Mobile Dine Check-In is still currently being rolled out, so it may not be available at every restaruant, but I strongly suggest that you check the app to see if it's available for the restaurant you'll be dining at.
Does Mobile Dine Check-In sound like something you'll use on your vacation? Leave us a comment below or on Facebook or Twitter!
Did you like this article? Make sure to share it with your friends! Check below for easy ways to share!  
Want to visit a Disney Destination? Contact The Magic for Less Travel for more information and a free, no-obligation quote.