Foodie Friday: Cookies Too on Castaway Cay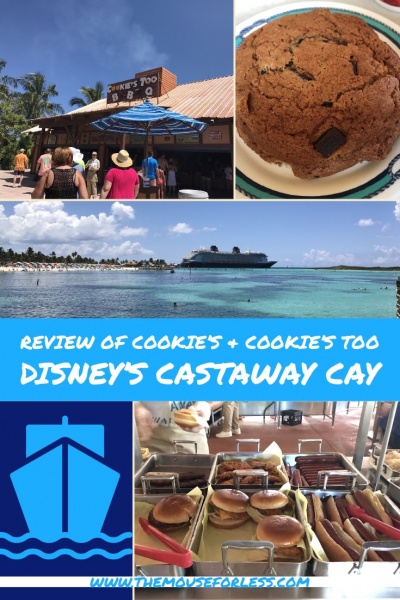 Castaway Cay. It truly is the definition of paradise. Disney's very own private island is a beacon of relaxation and the perfect beach day you could possibly have. There's great beaches with not too deep water, there's a running/biking trail, there's snorkeling, there's parasailing, there's great kids areas, there's stingrays, I mean, it's paradise.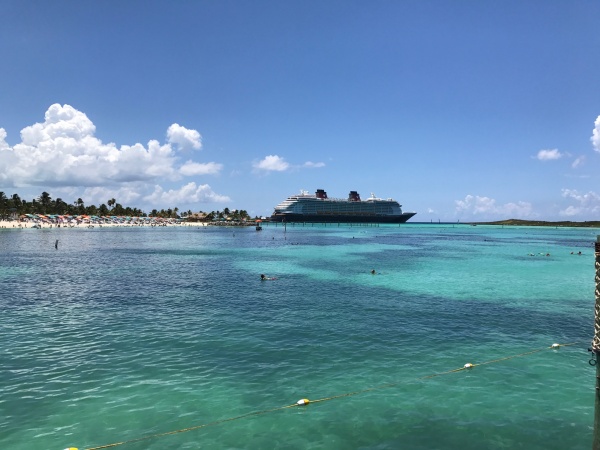 But, while you're on paradise, you get pretty hungry. Swimming, biking, running, snorkeling, sitting on the beach ( 🙂 ), etc can be a workout. And you don't want to go all the way back to the ship to eat. It's so far away!  What's a family to do? Well, that's where Cookie's BBQ and Cookie's Too come into play!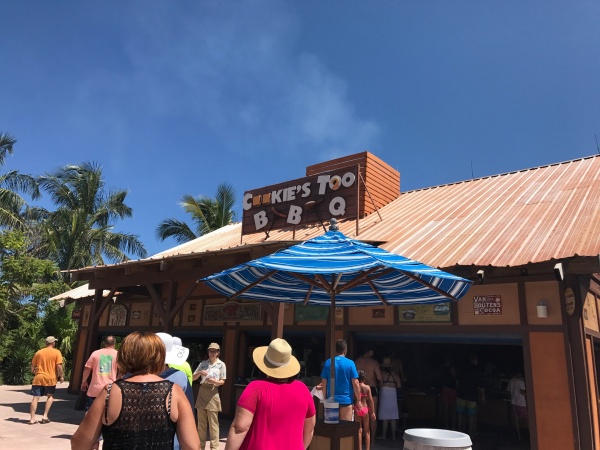 Both Cookie's BBQ and Cookie's Too are BBQ dining locations that serve up complimentary meals! That's right, everything here is included with your cruise fare. There are many different entry points for the buffet, so if the line is long at one, search around the corner because you might find an option with a much shorter line.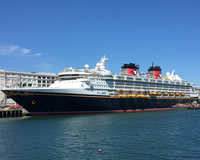 Up to $1,000 Onboard Credit
Receive up to 5% of your cruise price in shipboard credit exclusively from The Magic for Less Travel when you book any new 2019 or 2020 Disney Cruise Line Sailing. This is not a rebate or check you will receive after you cruise; this is a shipboard credit you can use on your cruise! Use your credits for shopping, shore excursions, spa treatments and more. Cruises must be booked by 12/31/18 to qualify for this promotion. Restrictions apply. Request a no-obligation quote today! Read More
More
Less
Both offer up delightful summer-time inspired treats and things to appeal to all. There's things like cous-cous, tomato salad, corn on the cob, cheeseburgers, spicy chicken sandwiches, hot dogs, chicken, ribs, chips, and more. The menu stays relatively the same time and time again, but occasionally, you'll find a new option.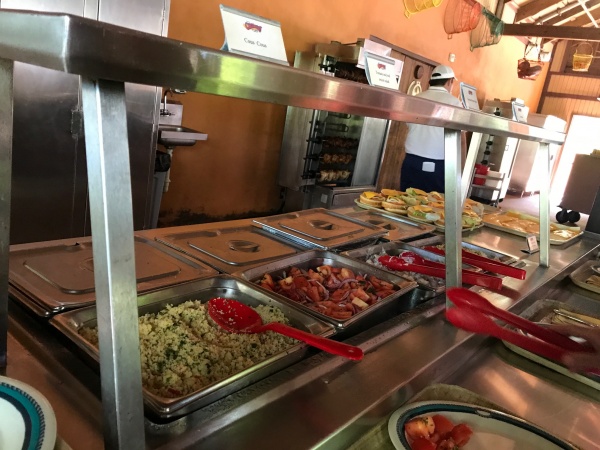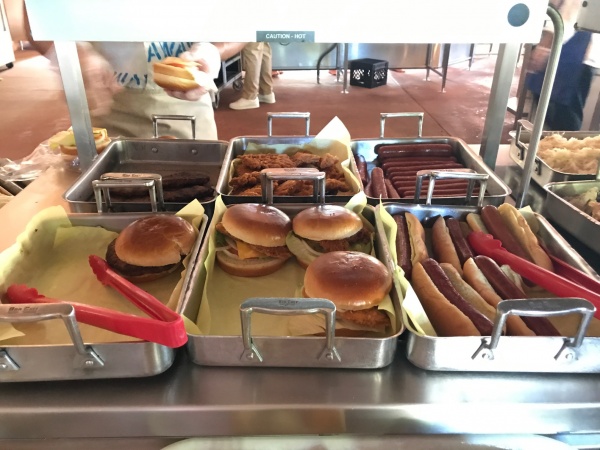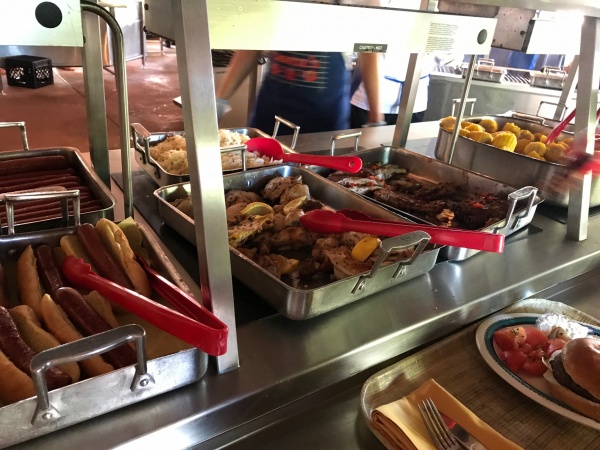 Of course, you can't forget dessert. There's a soft serve ice cream option for Guests, but there's also muffins, breads, and what the place is named for…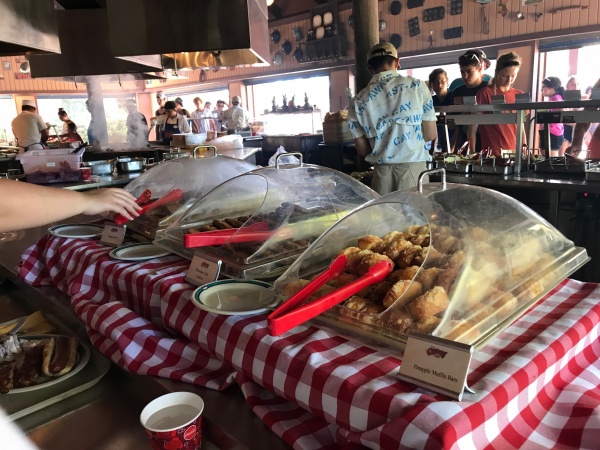 Huge chocolate chip cookies! (Here's a hack….take two cookies….go to the ice cream machine and make yourself a delicious ice cream cookie sandwich!)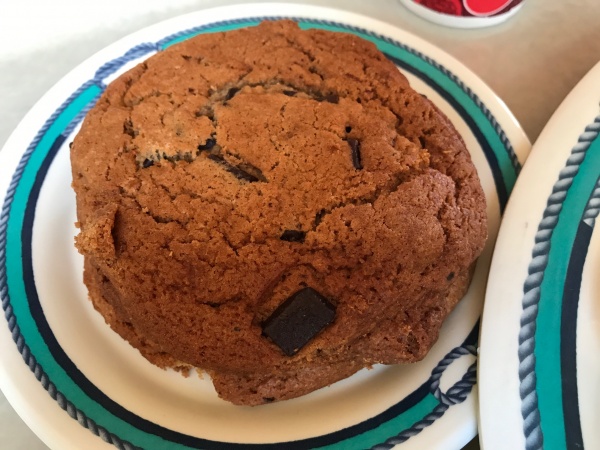 Cookie's BBQ and Cookie's Too is open air, so keep that in mind. Especially because the wildlife knows there's food here and they are just waiting for you to leave your tray open so they can pig out! (And trust me! They absolutely will!) Because it's open air though, you are perfectly welcome to come dressed in your bathing suit and sit on one of the wooden picnic tables.
Cookie's BBQ and Cookie's Too certainly isn't a fancy option, but it is delicious and filling. When you're on an island like Castaway Cay, you're looking for delicious and filling. (If you are looking for something air conditioned, you can always go back to the ship and have lunch instead.)
Have you stopped at Castaway Cay and dined at either Cookie's BBQ or Cookie's Two? What were your thoughts? Share in the comments, or on Facebook or Twitter.
Did you like this article? Make sure to share it with your friends! Check below for easy ways to share!
About The Author
RikkiN
In addition to being the Blog Admin and a Website Content Creator here at The Mouse For Less, I am also the co-host of the Be Our Guest WDW Trip Planning Podcast. I also post news articles for TouringPlans. Finally, I am the editor of the Mouse For Less Newsletter!