Les Chefs de France's Coq a Vin Recipe
|
One of my favorite restaurants in World Showcase is Les Chefs de France, which serves up delicious French classics for lunch and dinner. So I was very excited to try its recipe for coq a vin in my book, "Cooking with Mickey and the Disney Chefs." Coq a vin sounds like a complicated and time consuming dish, but cooking it is a lot easier than you might imagine.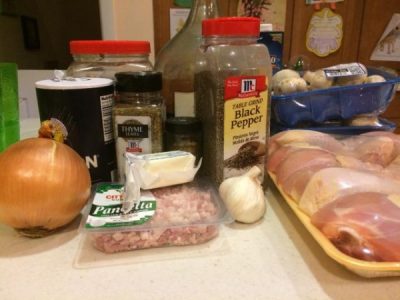 Ingredients
2 pounds bone-in chicken (I use legs only, but you can mix it up)
1.5 oz pancetta, diced
6 pearl onions (I used one large chopped vidalia onion since that's what I had on hand)
¼ lb whole mushrooms
1 clove garlic
2 Tablespoons butter
1 Tablespoons flour
1 750-ml bottle of red wine
1 cup chicken stock
2 Teaspoons dried thyme
1 Tablespoon dried parsley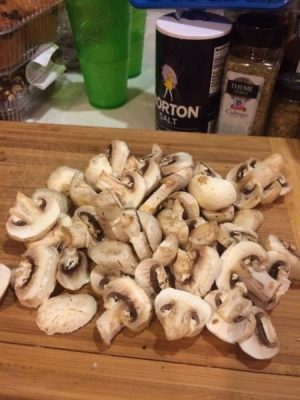 First, season your chicken with some salt and pepper and preheat your oven to 350 degrees. I like slicing my mushrooms at this point, but the recipe says you can leave them whole. In a large frying pan or stock pot, melt 1 tablespoon of butter and cook the onion and pancetta over medium-high heat. When the onions are golden, remove them and the pancetta from the pan with a slotted spoon and set them aside. In the same butter, cook the mushrooms until they are browned. Remove the mushrooms with a slotted spoon and add them to the onions and pancetta.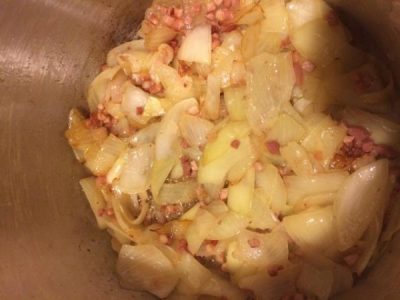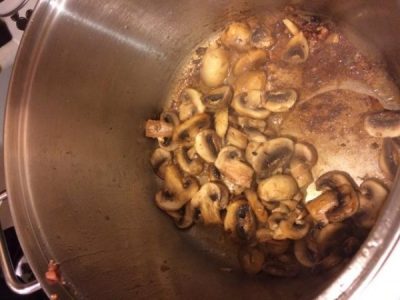 Now add the chicken pieces to that same pan and saute over high heat until the outside of the chicken has browned and the skin is crispy (a couple of minutes on each side). As the chicken finishes, move it into a deep oven pan, sprinkle with flour, and put into the oven for around 5-7 minutes.
While the chicken is in the oven, add the wine, chicken stock, and garlic to the stovetop pan and bring to a boil. Add the herbs, onions, pancetta and mushrooms into the boiling mixture.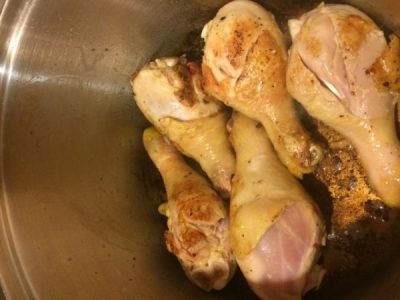 Remove the chicken from the oven and lower the oven temperature to 250 degrees. Add the wine mixture to your baking dish, where it should cover most of the chicken. Cover the pan with aluminum foil and return it to the oven for about 90 minutes.
When you remove the chicken from the oven again, it should be soft and practically falling off of the bone. Coq a vin allows your chicken to be full of amazing flavors and can be served alongside potatoes, rice, or a green salad.
My family was very happy with the results of this recipe, and I'd love to make it again, especially on a cool autumn night.
Did you like this article? Make sure to share it with your friends! Check below for easy ways to share!