'Ohana's Peanut Noodles Recipe
|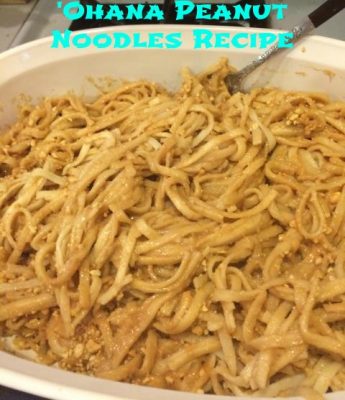 One of my all time favorite restaurants to eat at is 'Ohana at Disney's Polynesian Village Resort, and one of my favorite dishes on their dinner menu has always been their peanut noodles. When my daughter requested a Polynesian themed birthday party, it seemed like the perfect opportunity to try out a recipe for this crowd favorite.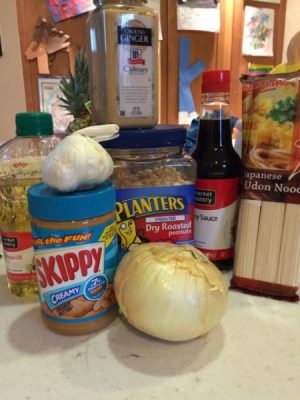 Ingredients:
2 cups dry udon noodles (you can find these in the ethnic foods section at most grocery stores)
2 cloves of garlic
2 Tbsp ground ginger
2 Tbsp roasted peanuts
½ cup peanut butter (creamy style)
¼ cup soy sauce
¼ cup sugar
¼ cup water (we wound up adding some more as you will see below)
1/8 cup large sweet onion
1 Tbsp canola oil
salt and pepper to taste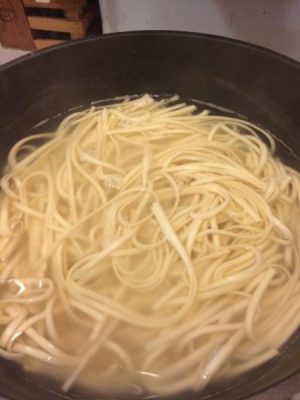 The first step in making 'Ohana's peanut noodles is to chop up your onion and garlic into a fine dice. You will also want to chop your roasted peanuts. Then cook your udon noodles according to the box instructions. Like traditional pasta, the time you need to cook your udon noodles may vary according to the size/thickness of the noodles you purchase.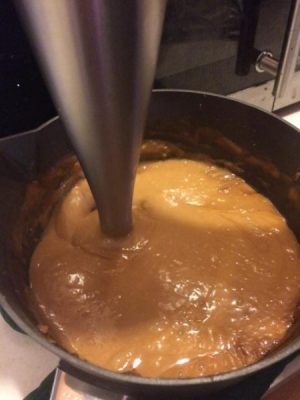 While the noodles are cooking, you can begin your peanut sauce in a small saucepan. Add to the saucepan the garlic, ginger, peanut butter, soy sauce, sugar, water and onion. Also, add about half of the roasted peanuts to the sauce. Heat over medium/high heat until the mixture comes to a boil, stirring occasionally. Once it boils, lower your heat to a simmer and cook for about 10 minutes, stirring frequently. We found that the sauce became a little too thick and wound up adding another ¼ cup of water about halfway through the simmering process.
When your sauce is fully heated, blend it either with a blender or an immersion blender. We found the immersion blender to be especially handy for this type of sauce. Set your sauce aside.
In a large saute pan or wok, heat the 1 Tbsp of canola oil to a sizzle. Then add in your udon noodles and stir until they are hot. Add in your peanut sauce to taste, and stir until the ingredients are evenly distributed. Then move into a serving dish and garnish with the remaining chopped peanuts. We added some extra chopped peanuts to the dish as well. Season with salt and pepper to taste.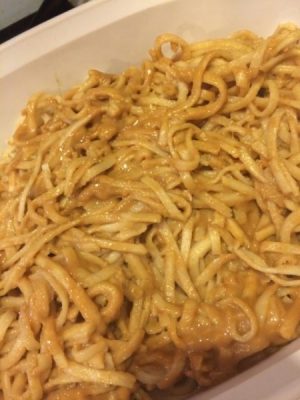 This recipe was a huge success in my household. Our guests all wanted the recipe so they could make it themselves. We had only a small amount of noodles make it into the fridge for leftovers, and they did not last! The leftovers for the 'Ohana peanut noodles are great either cold or hot. I will be making this over and over, and I hope you'll enjoy it as much as we did.
Incoming search terms:
disney ohana noodle recipe
ohana noodle recipe
disney ohana restaurant noodles recipe
ohana noodles
ohana peanut noodles
ohana springfield mo noodle recipes
wdw ohana noodle recipe