BeJeweled & Be Dazzled at Walt Disney World
|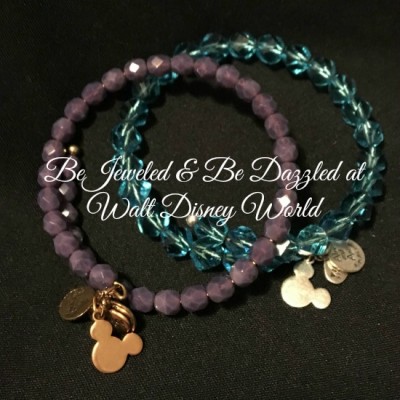 I will admit it, I can spend as much time in the shops at Walt Disney World as I can on attractions.  I am pulled to them like some are pulled to the scent of popcorn on Main Street.  Of course there's the much needed air conditioning, but there's something about Disney souvenirs that I can't resist.  One category in particular is the jewelry.  And it doesn't matter if just about every shop has 95% of the same inventory, I'll still look at each display in case I find something different.   My girls are the same way – they love to shop for jewelry at Disney! There really are so many jewelry options for everyone's taste.  I have to note that each piece you'll see here, is much more dazzling in person.  My big plan to photograph the jewelry was to have it all against this elegant black background (yes, that's my black tech shirt from the Star Wars, the Dark Side Half Marathon) and show off its beauty.  So, um, just imagine it looking better than it does here.  😉
One of Disney's most popular lines comes in the form of ALEX AND ANI bracelets.  ALEX AND ANI joined forced with Disney back in 2014. ALEX AND ANI bracelets are made of recycled brass and come in different "tones" – Rafaelian gold finish, Rafaelian silver finish,  shiny silver finish, yellow gold finish.  Since their debut, they have already retired some characters, and added many more.  What has stuck around, is a bracelet for each park and the Disney Vacation Club (DVC) logo. Aside from the metal bracelets, ALEX AND ANI added some color with a beaded line, with a signature Mickey icon displaying one's Disney side.  While I find these bracelets a tad trendy, I couldn't resist getting a few  – I have my two favorite parks (the Magic Kingdom & Epcot) along with the DVC logo.  I've also purchased some for my girls to put away for them when they're older and they fit better.  I think that it will be super cool to wear these in about twenty years. 😉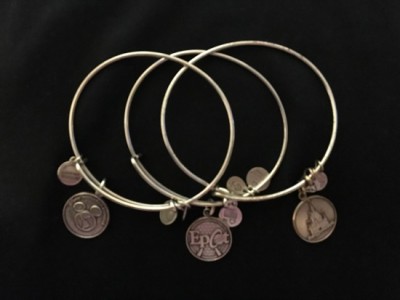 From left to right, the DVC logo, Epcot, & Magic Kingdom bracelets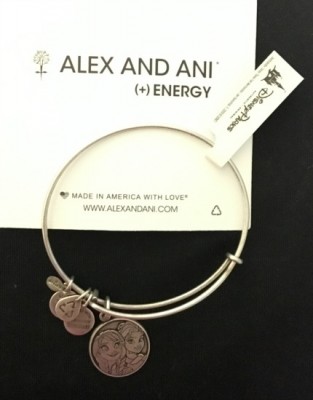 Anna & Elsa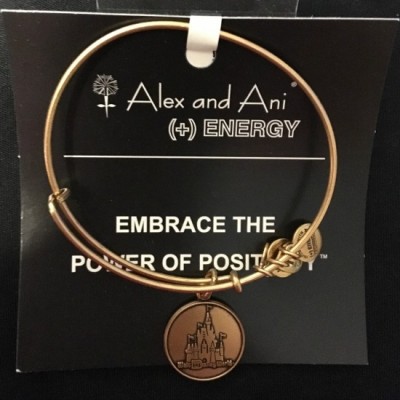 The Magic Kingdom bracelet in gold finish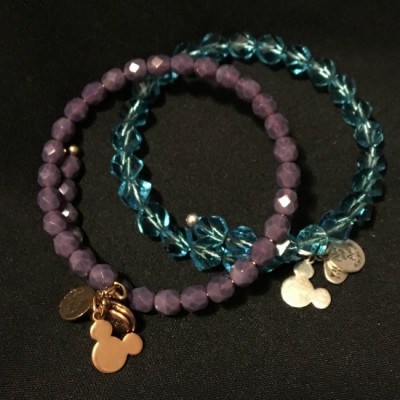 ALEX AND ANI beaded bracelets with Mickey icon charms
While it resembles the ALEX AND ANI above, the bracelet below is a rubber bracelet that does fit a child's wrist and is just too adorable.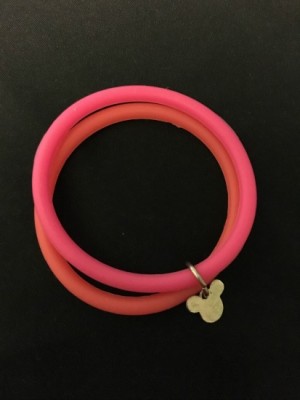 Another established line that partnered with Disney is PANDORA.  PANDORA made an appearance in the Disney parks in the fall of 2014.  PANDORA sells a variety of jewelry, but its most popular, is the bracelet which you can add individual charms to.  While there is a large variety of charms, they sell at a variety of price points too ($35 – $85/charm).  While your bracelet would be one-of-a-kind and highly customized, it would also be much more expensive than other versions of the classic charm bracelet.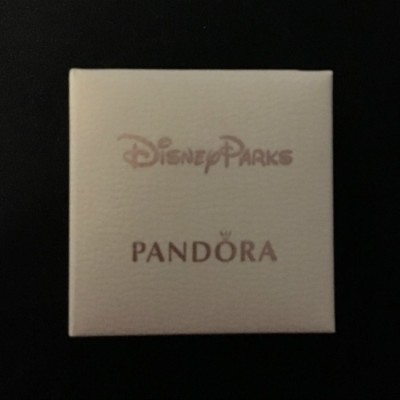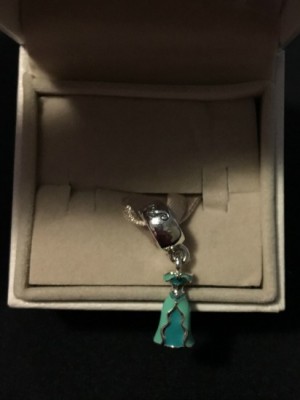 This Jasmine charm is detailed and the picture does it no justice
A much more economical option for children is a charm bracelet or necklace with charms that attach by a lobster claw.  They sell these at a variety of locations, and there are cubes filled with various characters and Disney objects.   The chain for the necklace and bracelet can both be purchased for under $10 each, with the charms each costing less than $5.  The chains are also available in both silver or multi-color.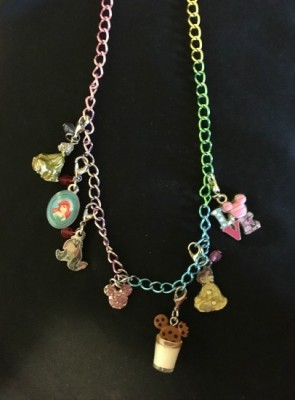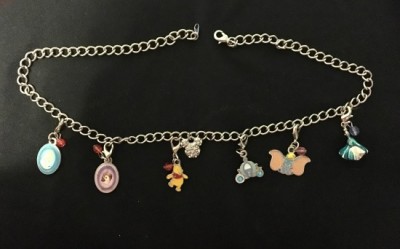 The girls collect their favorite characters for their own personalized necklace 
If you pull up jewelry and watches on the Disney Parks Shopping App, there are over 3,000 results so there's literally something for everyone.   Disneystore.com seemed to feature less than 500 pieces.
We picked up the adorable acrylic Dumbo below for our little one because she loves her Dumbo, and it was just too cute not to.
Our oldest daughter is a big softball player so was thrilled to find a necklace that showed both her sporty and girly side.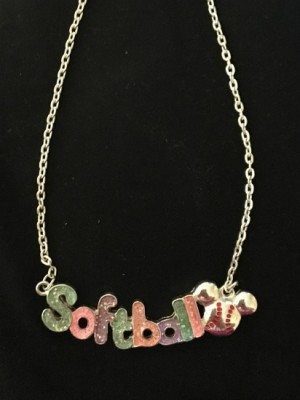 The classic Minnie bow can be found on a number of jewelry pieces.  A child size ring matches the small bows for her ears.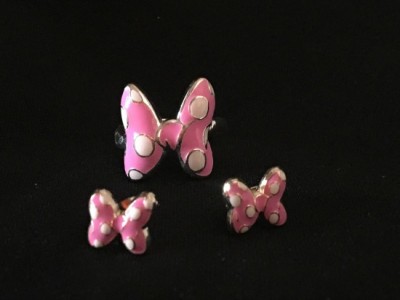 If you like your jewelry on your fingers, there are some great ring options as well.  I've had this sterling silver hidden mickey ring since I was younger.  It's a classic.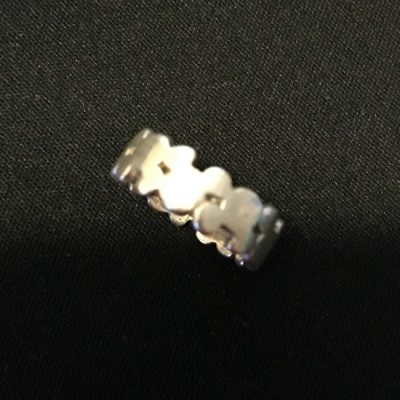 With the name Jocelyn, I didn't find too many key chains or license plates for my bike that had my name when I was a kid.  So I was thrilled at the opportunity to have a ring with my name carved into it!  You can find a handful of kiosks that ring carvers will personalize a ring for you in Walt Disney World.  One is outside of the Mexico pavilion in Epcot, Adventureland in the Magic Kingdom, and I'm not sure if it's still there – but there was one at Disney Springs (when it was still Downtown Disney).  This is another highly customizable, yet affordable option.  I've also had this ring for at least twenty years.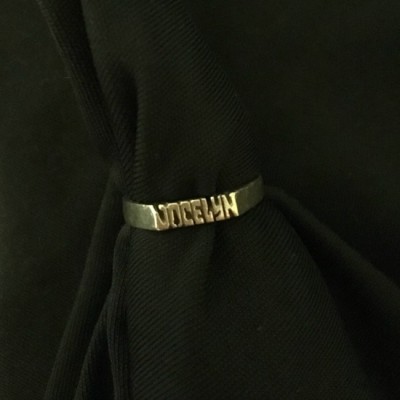 Now, while I am always looking at the jewelry and have shared a sample with you here, I must say, my favorite piece yet, is below.  It's a CRISLU necklace with a small Mickey icon made up cubic zirconias on a chain that can be worn at 16″, 17″, or 18″.  It has become a necklace I just adore – it's simple, yet classic, and can be worn dressed up or down.  Best of all, being able to wear the chain at different lengths, it can be seen with different necklines, or even paired with another necklace.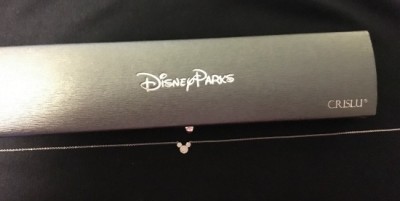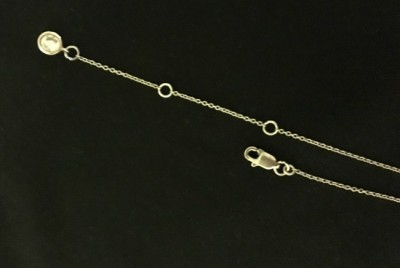 Various clasps to wear the chain at different lengths
Last, but not least, is the pearl you can pick, in Japan's Pick-a-Pearl.  In the Japan pavilion, you can pick your own oyster and the ladies will ceremoniously open the oyster to reveal your own authentic pearl.  You can then have it set as different pieces of jewelry – and if you happen to find "twins," you can have earrings made!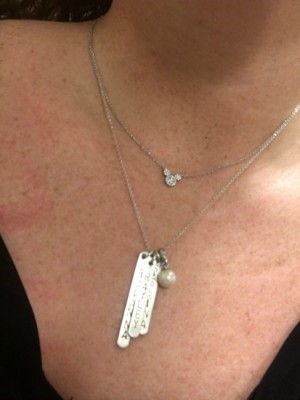 I wear my pearl on my mother's necklace, alongside the names of my three daughters.  And even better, I wear my CRISLU Mickey necklace above it, so all the "things" I love, are close to my heart! <3.
What is your favorite piece of jewelry that Disney sells? Who would you like to see Disney partner with? Share your thoughts in the comments!
Similar Posts: