Delicious Disney Dishes: Le Cellier's Three Onion Soup Recipe
|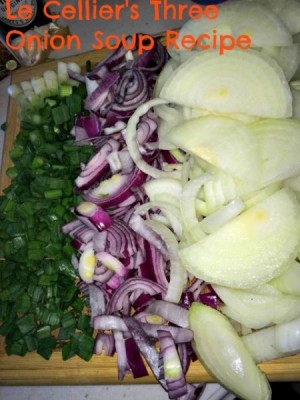 It has been awhile since my family has been able to visit Le Cellier Restaurant in the Canada pavilion at Epcot, but my husband and I have both has such memorable meals there. I was excited to find a recipe for Le Cellier's three onion soup, which was a nice addition to our menu at home.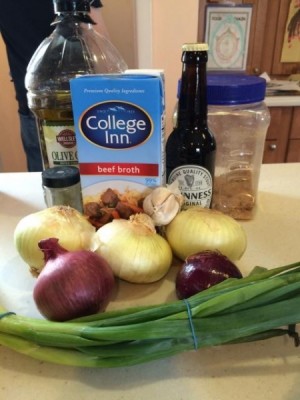 Ingredients:
2 ¼ cups sweet Spanish onions
2 ¼ cups red onions
1 ¼ cups shallots
2 teaspoons garlic
½ tablespoon extra virgin olive oil
4-5 fresh thyme sprigs (I substituted dried thyme, since I had it onhand)
½ cup tres pistoles or other dark beer (we used Guinness, which was a recommended substitution)
½ tablespoon brown sugar
2 ½ cups beef stock
Black pepper to taste
First, you need to slice all of those onions. Be ready for some tears, because it's a lot of slicing, but the end product looked so pretty and was worth the effort. Also, chop the garlic at this time.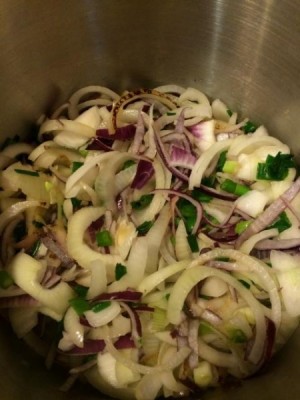 In a large pot, heat the olive oil over medium heat and add the garlic and onions. You will need to keep stirring the mixture so that it does not burn (almost continuously). Keep stirring the onion and garlic until they are all soft and caramelized, around 30 minutes.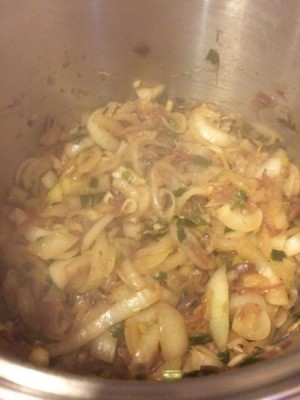 Then add ¼ cup of the beer and the brown sugar. Stir until the ingredients have combined and the sugar has melted. Then add the beef stock and thyme and lower the heat to "low." You can now just mix the soup periodically instead of constantly. After about 20 minutes of simmering, add the rest of the beer and some black pepper and you can serve it immediately.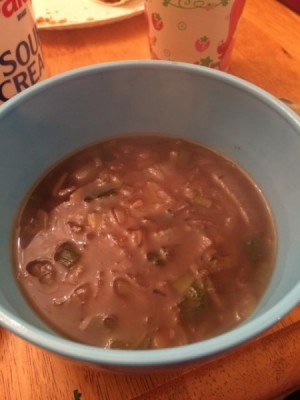 My children were hesitant to eat this soup, but the adults loved it with one minor modification. It needed some cheese! By this point, I was too lazy to start making crocks of soup with melted cheese on top, but we did add grated Parmesan cheese, and found that it improved the dish. The nice thing about this soup is that it's elevated from the traditional French Onion you may be used to eating. The mixture of different onions really does come through, as does the inclusion of the dark beer in place of a traditional sherry. We had some soup left over, and it was just as good (if not better) the following day. I look forward to making this again next winter.
Happy Cooking!