Disney Recipe: Mama Melrose Ristorante Italiano's Panzanella Salad
|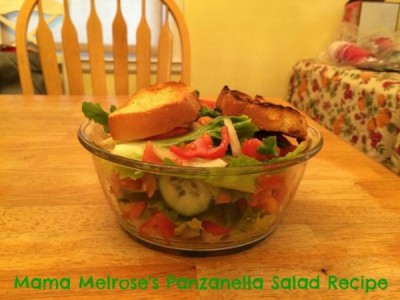 One of the first Disney cookbooks I ever purchased was called "Cooking with Mickey and the Disney Chefs." What drew me to the book was that it contained recipes from Walt Disney World, Disneyland, and Disney Cruise Line. It remains in heavy rotation in my kitchen, so that my family can continue to experience some of these great Disney recipes even though they may no longer be on the menus of these restaurants. Today, I'm sharing the recipe for an Italian classic, Mama Melrose Ristorante Italiano's Panzanella Salad.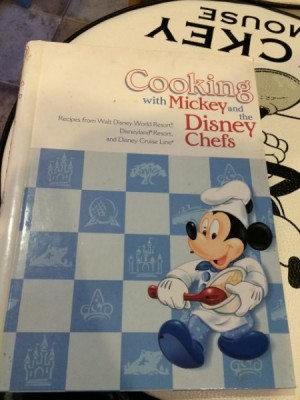 Ingredients:
½ cup medium vine-ripe tomatoes, diced
1 cup arugula, well rinsed
¼ cup English cucumber, thinly sliced
¼ red onion, chopped
1 tablespoon extra virgin olive oil
1 tablespoon aged red wine vinegar
sale, to taste
ground pepper, to taste
some sliced coarse bread (I used Italian bread, but any bread could work)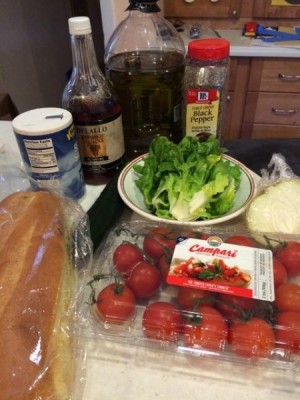 First, you will want to chop, slice and dice the tomatoes, cucumber and onion as directed above. Make sure that all of your ingredients are small enough so that you could get a little of each of them onto your fork at once while eating it.
In a large mixing bowl, place the tomatoes, arugula, cucumber and onion. Toss well. Add in the oil, vinegar, salt and pepper and continue to mix until well combined.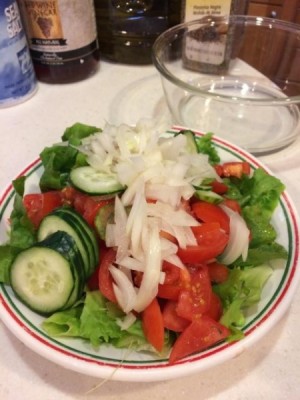 Meanwhile, cut your bread into medium sized slices and toast it either in the oven or toaster. For extra flavor, you can toast the bread in the oven with a little olive oil and garlic powder on top, but if you want to work quickly, you can just pop the break into a toaster.
The recipe says to stack your salad in a flat dish, but I prefer making it in a small glass bowl- especially a clear one, so you can see the ingredients from the side. Put about half of the salad into the bowl. Then stack some of the toasted bread on top. Then put another layer of salad and another layer of bread. This recipe could easily serve two people even though the book says it yields one serving. Also, you can easily make this recipe in advance of dinner and store it in your refrigerator until you're ready to eat.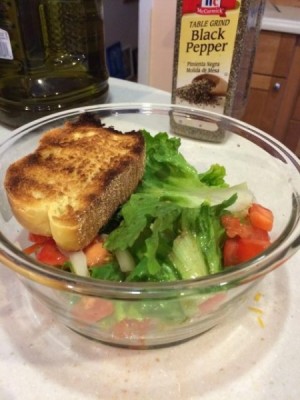 Panzanella is a simple salad, but beautiful and delicious. We make this often, and it's fun knowing that our meal has a little bit of Disney magic.
Happy Cooking!