Delicious Disney Dishes: Epcot Food & Wine Festival's Beef Stroganoff Recipe
|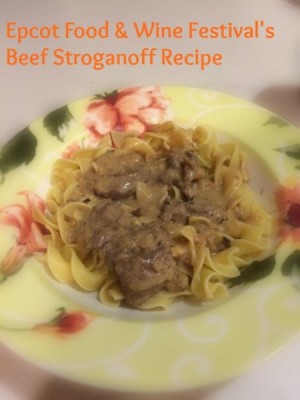 While I never had the pleasure of trying the Russia Marketplace at Epcot's Food & Wine Festival, I was very curious to try out the recipe for its beef stroganoff that I found in the official 2015 Food & Wine Festival cook book. The recipe included in this book was the same one used for the 2001 festival, when Russia shared a marketplace location with Poland. This recipe is very different from my traditional stroganoff (it does not include mushrooms but does include ketchup), so I was a little skeptical at the onset.
Ingredients:
1 lb beef stew meat (my grocery store had sirloin steaks on sale, so I sliced that instead)
5 Tablespoons all purpose flour
2 Tablespoons butter
1 medium yellow onion, diced
2 cups beef broth
1 Tablespoon dijon mustard
4 Tablespoons ketchup
8 ounces sour cream
salt, to taste
black pepper, to taste
1 lb egg noodles (cooked following package instructions)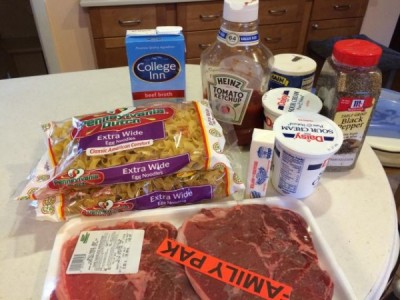 First, lightly flatten the beef with a tenderizing mallet (I didn't need to do this because I sliced the beef into thin strips at the onset). Then use 4 tablespoons of the flour to dredge the beef pieces. I used a large ziplock bag, put in the flour and meat, sealed it, and shook until all of the meat was uniformly covered.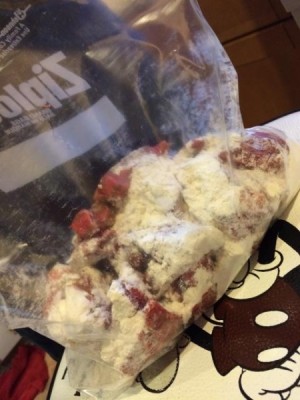 Then, in a large pan, melt the butter over medium heat. Add in the onions and saute them, stirring constantly for about 5-7 minutes. You want the onions to soften and look translucent.
Then, add the beef and continue stirring until all of the pieces are browned on each side. Reduce the heat to low, stir in the beef broth and simmer for about 20 minutes, stirring occasionally.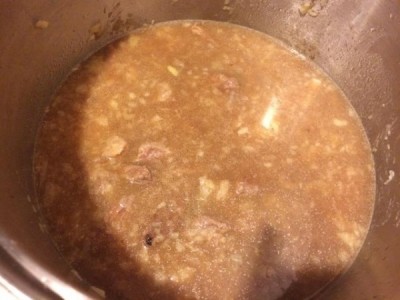 Finally, stir in the mustard, ketchup, sour cream and remaining tablespoon of flour. Add salt and pepper to taste and stir until everything is combined. Serve over hot egg noodles.
Despite the simplicity of this recipe, it was incredibly good! I found that the beef broth was salty enough that very little additional salt was necessary. The method of cooking meant that the beef came out tender and flavorful, and I didn't miss the mushrooms like I thought I might. The recipe suggests that it will feed 6-8 people, but I think they're being generous. I doubled the proportions in the recipe and was able to feed 5 people with some leftovers. It worked well for reheating the next day. I will definitely make this recipe again.
Happy Cooking!
Incoming search terms:
beef stroganoff Merriot Hotel orlando Disney world
disney beef stroganoff recipe 2017