Delicious Disney Dishes: Chickpea Salad from Harambe Market
|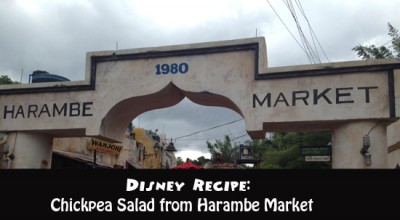 You know what one my favorite new restaurants at Walt Disney World is? It's actually Harambe Market, found in the Africa section of Disney's Animal Kingdom. This quick service location serves up unique dishes, that are far cries from traditional hamburgers and hot dogs. I love the fresh tastes and interesting flavors that are present.
One of the exceptional dishes is the Chickpea Salad, which is served as a side with many meals. So I thought I would share the recipe with you all today!
Chickpea Salad
Harambe Market – Africa
Ingredients:
2 tablespoons olive oil
1 tablespoon minced garlic
1 tablespoon minced fresh ginger
1/2 small jalapeno pepper, seeds removed, minced
1 teaspoon tamarind paste, dissolved in 3 tablespoons of water
1/4 teaspoon chaat masala, optional
1/2 medium yellow onion, diced
2 (14.5-ounce) cans chickpeas, drained and rinsed
2 to 3 tablespoons fresh lime juice, divided
Coarse salt, freshly ground black pepper, to taste
1 large tomato, seeds removed, diced
1/2 cucumber, peeled, seeded and diced
1/2 bunch cilantro, stems removed, minced
Directions:
Heat oil in a small sauté pan over medium heat.
Add garlic, ginger and jalapeno and cook until garlic is lightly golden.
Set aside until mixture is room temperature.
Whisk in tamarind paste and chaat masala.
Stir in onion.
Refrigerate until cold.
Toss chilled spice mixture to the chickpeas.
Add 2 tablespoons lime juice stirring to combine.
Season with salt and pepper.
Refrigerate for at least 1 hour.
Just before serving, add cucumber, tomato and cilantro.
Add remaining 1 tablespoon lime juice, if desired.
Serve chilled or at room temperature.
Happy Cooking!