Delicious Disney Dishes: Sonoma Goat Cheese Ravioli from California Grill
|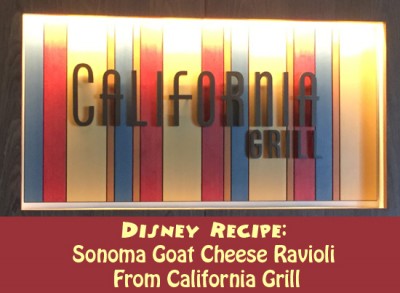 It's been so cold out there lately, so I was looking for a recipe that's filling and will be warming. So, I decided that I would like to make the Sonoma Goat Cheese Ravioli found at the infamous California Grill. I also decided to share that recipe with you all too! I hope you enjoy making this dish at home.
Sonoma Goat Cheese Ravioli
California Grill – Disney's Contemporary Resort

1 pound soft, mild goat cheese, such as Montrachet, crumbled
5 1/2 ounces aged goat cheese, crumbled
1/2 cup seasoned bread crumbs
2 tablespoons basil
2 tablespoons pesto
2 tablespoons extra-virgin olive oil
2 teaspoons roasted garlic puree (see note)
1/2 teaspoon salt, or to taste
1/8 teaspoon freshly ground pepper, or to taste
16 large egg roll wrappers
1 large egg beaten with 1 tablespoon water for egg wash
Clear tomato broth (see note):
14 whole, vine-ripened tomatoes
1 teaspoon salt
Broth Directions:
 in a blender, in batches, coarsely chop tomatoes with salt.
Place chopped tomatoes in a large sieve lined with a double layer of damp cheesecloth.
Set sieve over a bowl.
Let mixture drain in the refrigerator for 24 hours to collect the liquid.
Discard tomato pulp and reserve the liquid.
Ravioli Directions:
In a large bowl, stir fresh goat cheese, aged goat cheese, bread crumbs, pesto, olive oil, garlic, salt and pepper.
On a work surface, lay out 8 egg roll wrappers and brush each with egg wash.
With a sharp knife, mark each wrapper into 4 squares, taking care not to cut all the way through.
Place about 1 tablespoon of the goat-cheese mixture in the center of each square.
Cover with the remaining 8 wrappers and press edges together.
With a knife, cut each double wrapper into 4 squares to yield 32 squares of filled ravioli and press edges together.
Cook ravioli in a large pot of boiling, salted water, 1 to 2 minutes and drain completely.
Serve with warm tomato broth.
Roasted garlic puree recipe:
Heat oven to 325 F.
Line baking sheet with foil.
Cut top quarter from 2 large heads of garlic and place, cut side up, on baking sheet.
Drizzle generous tablespoon of olive oil over garlic.
Sprinkle with 1/8 teaspoon salt and pinch freshly ground black pepper.
Turn garlic cut side down, and roast until cloves are soft and golden brown, about 1 hour.
Remove, let sit until cool enough to handle.
Squeeze garlic, gently pressing to release cloves into a bowl.
Stir to blend to a spreading consistency.
Happy Cooking!