Delicious Disney Dishes: Chocolate Chip Crumb Cake from Disney's BoardWalk Inn
|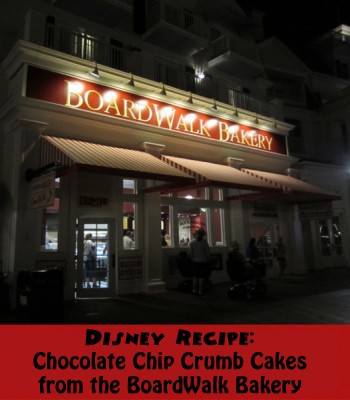 I was looking for a great breakfast option this week to try and I came across this one that sounded quite delicious. Ok, while for some, a crumb cake is debatable as a breakfast option, it is never a debate with me! So, I suggest you try to make the Chocolate Chip Crumb Cakes from the BoardWalk Bakery. (I don't believe these are still offered, but if they are, let me know!  I want to make sure to try them at the bakery during my next trip, if I can still get them!)
Chocolate Chip Crumb Cakes
BoardWalk Bakery – Disney's BoardWalk Inn
Ingredients:
1 1/2 tablespoons + 2 teaspoons sifted cake flour
1 cup cornstarch
1/2 teaspoon baking powder
1 1/2 cups granulated sugar
1 1/4 cups (2 1/2 sticks) butter at room temperature
1 1/4 teaspoons pure vanilla extract
1/2 teaspoon lemon extract
4 large eggs
1 cup semi-sweet chocolate chips
Directions:
1. Preheat oven to 350°F.
2.  Lightly grease and flour three 3″ x 5″ mini loaf pans.
3. In a medium bowl combine 1 cup plus 2 teaspoons of the cake flour with the cornstarch and baking powder.
4. In a medium bowl, using an electric mixer, beat 1 cup sugar and 1 cup plus 2 tablespoons of the butter, 1/2 teaspoon vanilla, and the lemon extract for about 5 minutes or until light and creamy.
5.  Add the eggs one at a time, beating well after each addition and adding 2 to 3 tablespoons of the flour mixture with the last egg; the mixture may seem curdled.
6.  Beat for 3 or 4 minutes or until creamy again.
7. With a rubber spatula, fold in the remaining flour mixture until thoroughly incorporated.
8.  Stir in the chocolate chips.
9. In a small bowl, with a fork mix together the remaining 1/4 sugar, 2 tablespoons butter and 3/4 teaspoons vanilla.
10.  Add the remaining 1/2 cup flour and mix until crumbly.
11. Fill the prepared loaf pans with the crumb cake batter and sprinkle the crumb mixture over the top
12. Bake the crumb cake for 35 to 40 minutes or until the middle of the cake springs back when touched lightly or a wooden toothpick inserted in the center comes out clean.
Happy Cooking!