Delicious Disney Dishes – Malted Waffles from Trail's End Restaurant
|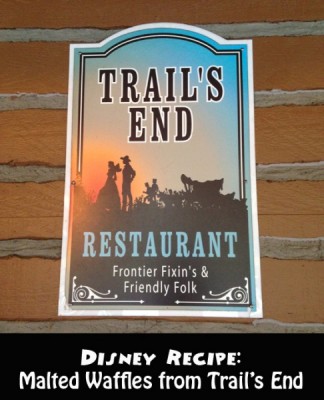 As you all know, this week is a busy holiday week, so I figured one great idea would be to make your family waffles for Christmas Eve or Christmas Day breakfast! Have these ready to go ahead of time and make a delightful treat for everyone to enjoy!
Malted Waffles
Trail's End Restaurant – Disney's Fort Wilderness Resort
Ingredients:
2 Cups All-purpose Flour
1/4 Cup Malt
2 Tablespoons Corn Meal
2 Tablespoons Sugar
1 1/4 Tablespoons Baking Powder
1/2 Teaspoon Salt
2 Each Eggs, beaten
1/4 Cup Butter, melted
2 Cups Milk
1 Tbsp Vanilla
Directions:
1. Preheat a waffle iron, grease lightly.
2. Sift together flour, sugar, baking powder, and salt into a large bowl. Set aside.
3. Combine eggs, melted butter, and milk in a medium bowl.
4. Slowly stir the liquid ingredients into the dry ingredients until moistened.
5. Pour about 3/4 cup of batter into a waffle iron, close the lid and bake until the steaming stops.
Happy Cooking!