Delicious Disney Dishes: Apple and Cornbread Stuffing from Garden Grill
|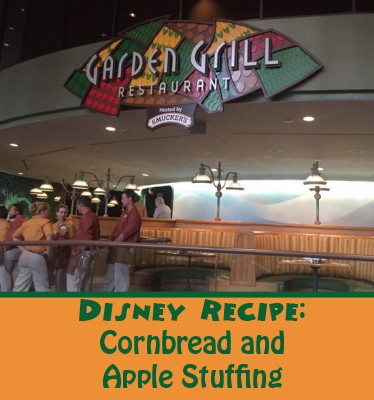 Tomorrow is Thanksgiving! Are you ready for it? It's time for family, parades, football, and of course, food. And have I got the dish for you!  It's the cornbread and apple stuffing from The Garden Grill at The Garden Grill in Epcot. I hope you all have a wonderful and amazing Thanksgiving holiday!
Cornbread and Apple Stuffing
Garden Grill, Epcot
2 apples, small diced
1 16-ounce package cornbread stuffing mix
1 cup butter
½ cup apple cider
1 cup turkey or chicken stock
1 cup small diced celery
1 large onion, small diced
1 tablespoon chopped fresh sage
1. Wash, clean and dice the onion and celery into a bowl.
2.  Wash, peel and dice the apples and set aside.
3. Heat the stock, apple cider and the cornbread seasoning package, bringing it up to a slow simmer.
4. In a sauté pan, heat up the butter until hot.
5.  Add celery, onions, apples and sage.
6.  Sauté until tender.
7. In a large bowl, combine the stuffing mix and sautéed vegetables.
8. Pour the hot liquid over the stuffing mix and blend well.
9. Pour into a casserole dish for serving.
Happy Cooking!