Delicious Disney Dishes – Warm Carrot Cake with Cream Cheese Icing from the Epcot Food and Wine Festival
|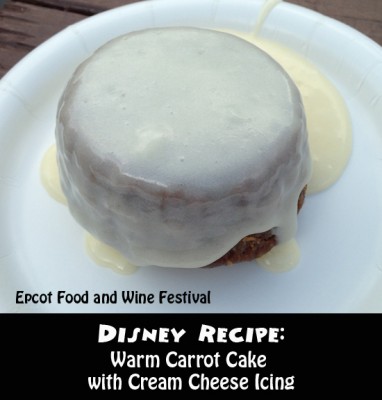 Oh my god. You want to know what my favorite treat I had during last year's Epcot Food and Wine Festival was? It was the Carrot Cake with Cream Cheese Icing from the Hops and Barley Booth. It was incredible with it's warm cinnamony flavor and the gooey cream cheese icing that oozed all over the plate. It was decadent and incredible.
So, I'm in the mood to make this dessert and wanted to share it with you too so you could enjoy the incredible treat!
Warm Carrot Cake with Cream Cheese Icing
Hops and Barley Booth – Epcot Food and Wine Festival
Ingredients:
Carrot Cake:
1 cup dried cranberries
1 cup orange juice
2 cups sugar
1 1/3 cups vegetable oil
3 large room temperature eggs
1 teaspoon vanilla extract
2 1/2 cups all-purpose flour
1 tablespoon all-purpose flour
2 teaspoons ground cinnamon
2 teaspoons baking soda
1 1/2 teaspoons coarse salt
1 cup chopped walnuts
2 cups grated carrots
1/2 cup diced fresh pineapple
Cream Cheese Icing:
8 ounces cream cheese, softened
1/2 cup (1 stick) unsalted butter, softened
1 1/2 to 2 cups confectioners' sugar
1/2 teaspoon vanilla extract
1 to 3 tablespoons milk
Instructions
For Carrot Cake:
1. Soak dried cranberries in orange juice overnight.
2. Preheat oven to 325° F.
3.  Butter and flour 12 oven-safe ramekins.
4. Combine sugar, oil, and eggs in a bowl.
5.  Mix with an electric mixer and beat until batter is light yellow.
6.  Stir in vanilla.
7. Sift together 2 1/2 cups flour, cinnamon, baking soda, and salt in a medium bowl.
8. Add flour mixture to sugar-egg mixture, mixing until just combined.
9. Drain dried cranberries (discard any remaining orange juice).
10. Toss cranberries and walnuts with the 1 tablespoon flour.
11.  Add carrots and pineapple, tossing to combine.
12.Fold mixture into batter.
13. Ladle batter into prepared ramekins.
14. Bake 35 to 40 minutes.
For Cream Cheese Icing:
1. Beat cream cheese and butter with an electric mixer until smooth.
2.  Beat in 1 1/2 cups confectioner sugar and vanilla.
3. Add more confectioner sugar and milk, 1 tablespoon at a time, until consistency is spreadable.
4. While cakes are still warm, turn cakes out of ramekins and spread with icing.
Happy Cooking!
Incoming search terms:
recipes for carrot cake at epcot
epcot crrot cake