Delicious Disney Dishes: Grilled Shrimp and Seared Scallops Pasta – Disney Cruise Line
Sharing is caring!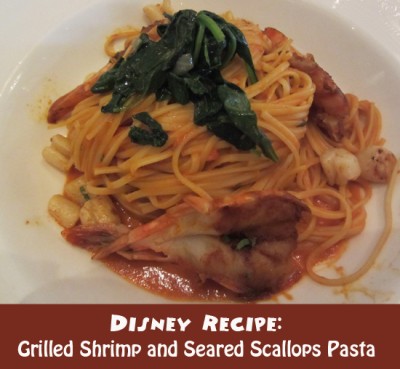 I'm getting ready to go cruising again aboard the glorious Disney Dream! It's such an amazing vacation and I'm so excited to get the chance to do it again.
One of my favorite nights is the Pirates in the Caribbean evening.  There's fireworks, dance parties, and of course, lots of food.
One of the great dishes is the Grilled Shrimp and Seared Scallops Pasta served in all of the different restaurants that evening.  This is clearly something I'm excited to get to eat once again.
Grilled Shrimp and Seared Scallops Pasta
Pirate's in the Caribbean Night Menu – Disney Cruise Line

Ingredients

8 ounces linguine

2 cups favorite spaghetti sauce

2 cloves garlic, thinly sliced

5 tablespoons butter, divided

2 cups fresh spinach

Coarse salt, freshly ground white pepper

12 large shrimp, peeled and deveined

12 large scallops

Preparation:
Cook linguine according to package directions.
Drain and mix with spaghetti sauce. Keep warm.
Sauté garlic in 2 tablespoons butter until golden.
Add spinach and cook until wilted.
Season with salt and pepper and set aside.
Heat remaining 3 tablespoons butter in a skillet over medium-high heat.
Add shrimp and scallops, and cook about 3 minutes or until shrimp turns pink and scallops are white, turning once.
Top pasta with cooked spinach, and serve with shrimp and scallops arranged around the pasta.
Happy Cooking!
Sharing is caring!
About The Author

RikkiN
In addition to being the Blog Admin and a Website Content Creator here at The Mouse For Less, as well as editor of the Mouse For Less Newsletter, I am also the co-host of the Be Our Guest WDW Trip Planning Podcast and I post articles for TouringPlans.