Delicious Disney Recipe: Frozen Sunshine from Beaches and Cream
|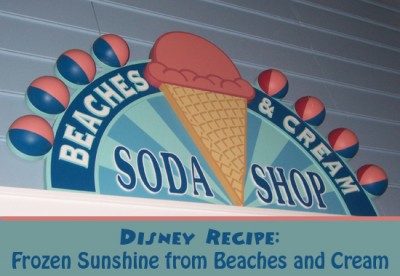 With the heat out now, I figured we needed a little something cool today. I mean, it is summertime officially now. So, I wanted to share a little sunshine with you…Frozen Sunshine from Beaches and Cream found at Disney's Beach Club Resort.  This is an easy recipe that I think is the perfect treat for today.
Frozen Sunshine
Beaches & Cream – Disney's Beach Club Resort
Ingredients:
1 Scoop vanilla ice cream
2 scoops orange sherbet
Seltzer
Whipped cream
6 Candy orange slices
Directions:
1.  Put 1 scoop of vanilla ice cream and 2 scoops of orange sherbet in a blender.
2.  Blend until smooth.
3.  Pour seltzer into a glass.
4.  Add ice cream/sherbet mixture.
5.  Top with whipped cream and candy orange slices.
Happy Cooking!
Incoming search terms:
beaches and cream frozen sunshine
BEACHES AND CREAM FROZEN SUNSHINE DRINK RECIPIE