Delicious Disney Dishes: Shrimp and Asparagus Penne Alfredo from 1900 Park Fare
|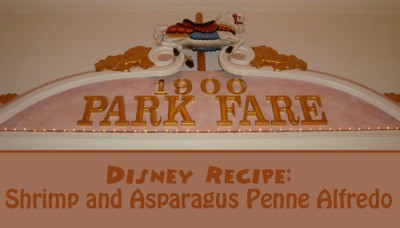 I'm planning tonight's dinner out and I thought, I could really go for a great pasta dish. So, I searched and I found this dish and I wanted to share it with you all too! So, here is the Disney recipe for the Shrimp and Asparagus Penne Alfredo from 1900 Park Fare, located at Disney's Grand Floridian Resort.
Shrimp and Asparagus Penne Alfredo
1900 Park Fare – Disney's Grand Floridian Resort
Ingredients
 1/2 pound asparagus spear, cut in 2″ pieces
2 cloves garlic
2 teaspoons olive oil
1 quart heavy cream
1 pound shrimp
1/4 pound parmesan cheese, grated
1 pinch nutmeg, to taste
1 pinch ground white pepper, to taste
1 pinch salt, to taste
1 pound penne pasta, cooked and drained
Directions
1. Blanch the asparagus in boiling water for 2 minutes.
2.  Drain and chill in cold water.
3. In a large saute pan, saute the garlic in the olive oil until aroma develops
4. Add the heavy cream and reduce to about 2 1/2 cups
5. Add the shrimp and allow them to cook through (about 3 minutes).
6. Add the blanched asparagus to the pan and allow to heat through.
7. Add the Parmesan cheese and a pinch of nutmeg and pepper to the pan. Stir to melt the cheese.
8. Toss the pasta with the sauce.
9. Season to taste with nutmeg, pepper and nutmeg
10. Serve hot with additional grated Parmesan cheese on the side.
Happy Cooking!