Delicious Disney Dishes: Cornbread from Hoop-Dee-Doo Revue
|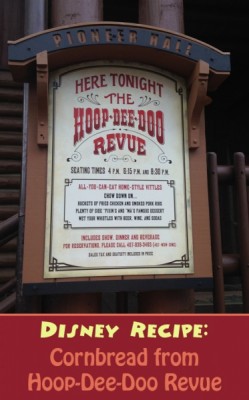 Summertime is officially here, with the unofficial kick off to the season this past weekend. And when I think of summer, I think of cookouts, with barbeque, salads, and yes, cornbread. Which means that you are in luck, because I am going to share a recipe for Hoop Dee Doo Musical Revue's cornbread! (It's also the same cornbread from Trail's End too!) It's so moist and delicious and the perfect accompaniment to any summertime meal.
Cornbread
Hoop De Doo Revue / Trail's End – Disney's Ft. Wilderness Resort
Ingredients:
3/4 cup cornmeal
1 1/4 cup sugar
1 1/2 tsp salt
1 tablespoon baking powder
1 3/4 cup flour
1/2 cup vegetable oil
1 cup milk
2 eggs
Directions:
1. Blend flour, cornmeal, salt, baking powder and sugar in a mixing bowl.
2. In a separate bowl, blend milk, eggs, and oil with a mixer.
3. Then, slowly add the blended liquid to the dry ingredients from Step 1, mixing just enough to combine the wet and dry ingredients.
4. Spray a 9 x 13 baking pan with non-stick spray. Then pour the batter into the pan, spreading evenly.
5. Bake in a preheated oven at 375 degrees for 20 to 25 minutes, or until golden brown.
6. Allow to cool.
Happy Cooking!
Incoming search terms:
hoop dee doo cornbread recipe
dinnerware from the hoop de do
disney hooptie cornbread