Review: My Disney Experience App
|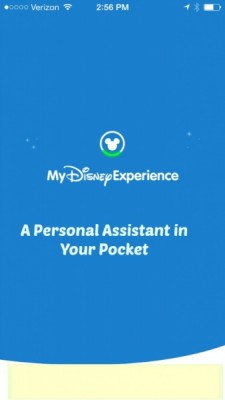 Back in the old days of traveling to Walt Disney World, we dedicated, organized travelers would have to carry dog-eared, multi-folded itineraries that we printed at home or a cumbersome book that contained all our step by step vacation plans. That was fine for at home, but when we would carry it from ride to ride we would hopefully not leave it on Splash Mountain or Astro Orbiter.
Then about three years ago that all changed. The fine folks at Disney created the My Disney Experience App (and website) and freed us from our paper chains. The My Disney Experience App lets you keep track of your vacation on a day to day basis. It is so convenient it may be the only thing you need to carry into the parks, except for a rain poncho.
In order to use My Disney Experience, you must first download the app to any Smart Phone or tablet. Next, you must sign up for a Disney account, if you don't already have one. It's a pretty simple process, but don't wait until the hour before you want to make your Advance Dining Reservations. When you get into full swing of making your Advance Dining Reservations and planning your FastPass+ reservations time is of the essence, you'll thank me later.
After you download the app, push the buttons and take it for a spin. You will soon find out how traveler friendly this app actually is. Once you have made a Walt Disney World Resort Hotel reservation you can link your reservation to the My Disney Experience app and see all your information at a glance. This makes check in on a busy arrival day even easier.
You can also use this page as a reference when making dining reservations. How many of us have been on the phone with a Disney cast member and misplaced the confirmation number in all our paperwork? I know I have. My Disney Experience is also linked to your MagicBand and everything works together to make your adventure that much easier.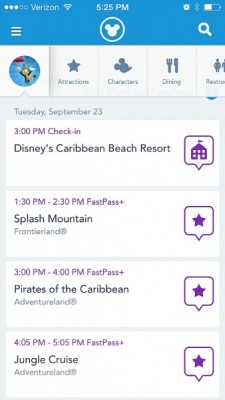 As any Disney Frequent Flyer knows the number 180 is key to getting dining reservations that you want and on the days and weeks prior to that "magic" day menus and locations of restaurants are checked often. With the My Disney Experience app you can check all your possibilities by signing into the app, going to the dining section and scrolling up and down until you find what restaurant you want and then accessing the menu. If you are in the 180 day window, you can even create a reservation on the spot (if there is an opening).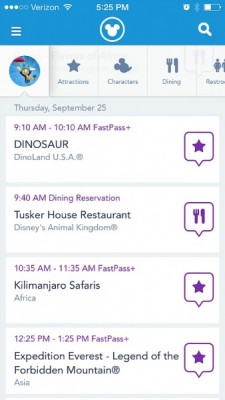 Another number that is key to Disney folks is 60. That's the day to make your Fast Pass+ reservations, if you're staying onsite. (If staying off-site, that magic number is 30.) If you have already purchased theme park tickets, the awesome thing is that you can start making those FastPass+ reservations between midnight and 1:00 a.m. on your 60 (or 30) day mark through My Disney Experience.
Access the app and open the FastPass+ tab. You may be asked to enter your reservation or confirmation number. Next, you will be given a choice of rides or events and times that are available throughout the day.
Remember there is the fourth rolling FastPass+ that becomes available to you after you have used your first three. I point this out because if you pick an event/ride at 9:00 a.m. and 10:00 a.m. and then pick your third for 9:00 p.m. (fireworks), you will not be able to access a fourth FastPass during the day. I personally like to get my FastPasses early in the day and then when I come back in the evening I can get the additional FastPass if time and location allows. (As a reminder, in order to make your fourth rolling FastPass+ reservations, you will need to go to the kiosks in the parks–you cannot make the fourth FastPass via the app.)
So, let's say you have picked out all your FastPass rides, you enter EPCOT and here rumblings that Test Track is closed. "OH NO!" you shriek. Well don't worry. If your attraction is down during your FastPass+ reservation, Disney sends you a message with a list that asks you to pick a ride that you would like to replace that Fast Pass with. I had this happen last year and all I needed to do as walk up to my new ride selection, they scanned my MagicBand and on the ride I went.  I didn't even need to reschedule it on My Disney Experience.
Now you can use the app as an itinerary for your vacation stay at the parks. You will be able to look at your schedule day by day and see what is in your agenda even before it happens. As we all know, unexpected things happen while at the parks and that is where the app comes in handy again. Car trouble, need first aid, looking for an ATM or perhaps you're ready to obtain that fourth rolling FastPass just click on the Guest Services icon and you will find locations that will assist you.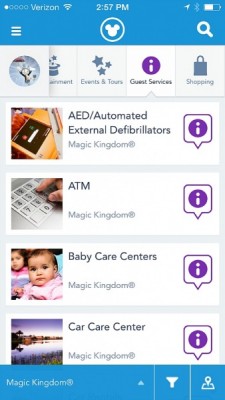 If you're like me you definitely want to maximize your time at the parks and you can do that by clicking on the Attractions icon. This icon will give you wait times and closures for all the Walt Disney World parks.
Perhaps your son really needs to meet Buzz Lightyear and your daughter needs to have a heart to heart with Ariel, just click on the Characters icon and you will find out what time and in which park the Meet and Greet will be able to take place. Click on the Shopping icon and you can find the nearest location to purchase Toy Story merchandise, as well as many other items in all the Disney parks.
You can also pull up the side bar on you Smart Phone or tablet to access park hours, wait times, access your wish list and access the My Reservations tab for resort and dining confirmations, times and dates. On the My Reservation tab, there is also an icon for "Friends and Family". If you access the icon you can link to others in your party and see what their plans are. Very convenient when trying to coordinate a group.
Need to find out what time the 3:00 parade starts? (Yes, people do ask this question.) Click on the Entertainment icon and find the time and place to be. Most likely you will also find three other events you want to see.
The app will even direct you to the closest restroom just by accessing the Restrooms icon. If at anytime you are just not sure where you are in the park in comparison to your destination you can pull up the map within each icon, enlarge the map and get a better idea as to what direction you need to go in.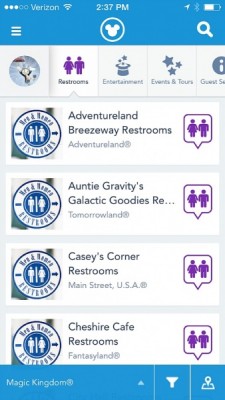 Having the My Disney Experience app open on your phone during your trip is like having a personal assistant at your beck and call during your entire vacation.
One tip I like to share is take a snapshot of everyday of your plans. This way if you can't access the internet you will still have a picture of what your plans are for the day with a you confirmation numbers.
So, on your next trip you take to Disney, make sure to use this tip-top, convenient, time saving tool. It's the one personal assistant you will have that won't ask for a day off.
What's your favorite part about using this app during your vacations?
Incoming search terms:
icon from the disney app
my disney experience
my disney experience app
my disney experience app review