24-Hours of Magic: A Review of Rock Your Disney Side – 2014
|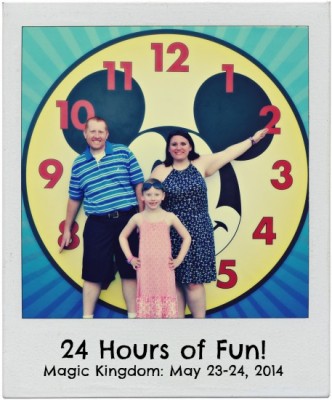 May is one of our favorite months to visit Walt Disney World. The weather in Orlando is warm and sunny, and you can beat the summer crowds that begin to fill the parks as soon as school lets out. Best of all, there are several "can't miss" events held at Walt Disney World during the month of May, and last year, our family had the opportunity to experience three of them in one epic vacation!
In May 2014, we were able to catch the last few days of the Epcot International Flower and Garden Festival; to blast off to a galaxy far, far away at Hollywood Studios' Star Wars Weekends; and then to cap off the trip we "rocked our Disney Side" at the Magic Kingdom's 24-hour day!
Disney recently announced that the 24-hour day would be offered again this year, so if you're thinking of attending – this is the review for you!
Last year, for the 24-hour park day, the Magic Kingdom opened bright and early, at 6:00 a.m. on Friday, May 23 and remained open for a full 24 hours – until 6:00 a.m. on Saturday, May 24. What's great about the 24-hour park day is that the admission for this event is your standard Magic Kingdom park ticket – there are no additional fees. If you're only planning to visit the Magic Kingdom for a day, this is a great way to maximize your single-day ticket!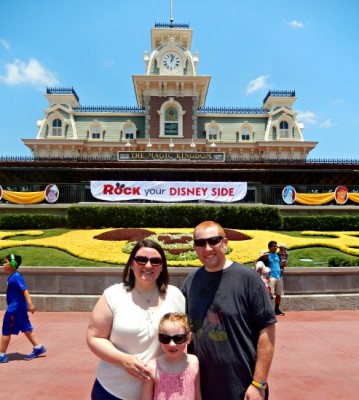 The theme of last year's event was "Rock your Disney Side," and guests were invited to do just that – by wearing costumes and apparel highlighting their favorite Disney heroes and villains! We spotted some pretty creative costumes last year (on adults and children alike), ranging from classic Disney villains like Maleficent and Ursula; to princesses, like Cinderella and Belle; from heroes, like Aladdin and Peter Pan; to Pixar favorites, like Wilderness Explorers and "toys;" and of course, there were some fantastic Disney Parks costumes, including Duffy the Disney Bear and Captain EO!
The creative costumes at the 24-hour day rivaled those seen at Mickey's Not So Scary Halloween Party, and were almost more fun because they were worn in celebration of guests' love of Disney! While our family didn't wear costumes to the 24-hour park day, we did get some great ideas for our next Mickey's Not-So-Scary Halloween Party!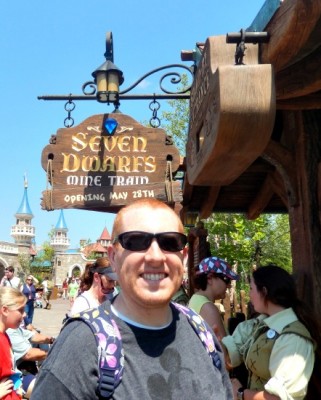 Upon arrival at the 24-hour park day, guests were handed commemorative 'Rock your Disney Side' brochures, listing all of the special events being held that day, and Maleficent buttons that both promoted the upcoming film release and encouraged guests to "show their villainous Disney sides."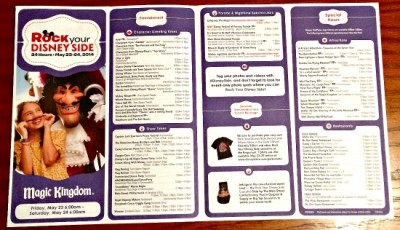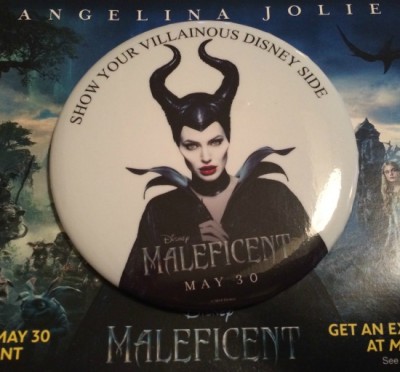 We didn't take advantage of the full 24 hours of fun, but chose to come and go throughout the day/night. Because May tends to be fairly hot in Central Florida, we'd definitely recommend taking breaks during the 24-hours, either by leaving for a few hours or by resting on some of the more "relaxing" attractions.
There were several special activities specific to the 24-hour park day, and most of them were held late at night, after "regular" park hours. Based on last year's schedule, we'd recommend planning your day to spend time at the Magic Kingdom at night.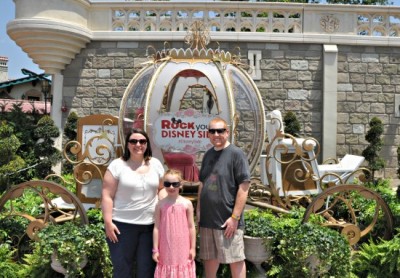 If you're a hard-core Disney fan, capable of rocking your Disney Side for 24-hours straight, by all means – go for it! But if you need your rest (like Elizabeth!) or are visiting with a young child, we'd suggest sleeping in and/or napping during the day so that you can show up at night, refreshed and ready to enjoy the special 24-hour day activities! We can't even begin to tell you how many exhausted guests we spotted during the late-night park hours – from moms sleeping in strollers to whole families curled up on the ground in Adventureland – know your limits and don't let this be you!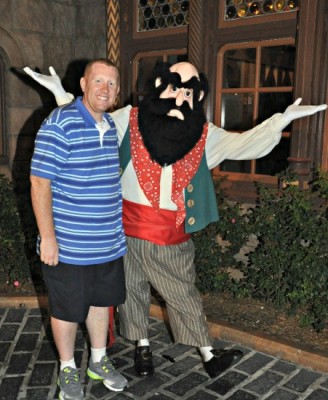 While the events for this year's event's are likely to be different, the following is a quick rundown of some of the special activities that were offered during last year's 24-hour park day:
Villains Character Greets

Classic Villains like Captain Hook and Stromboli (just to name a few) – in Town Square and Fantasyland
Maleficent and the Evil Queen – at Princess "Scary Tale" Hall

It's Good to Be Bad! Villainous Celebration Parade
Disney's Up All Night Dance Party – in the Central Plaza from 2:00 am – 5:45 am
Incredibles Movie Night – at the Rocket Tower Plaza Stage (after the Incredibles Dance Party)
Disney Side Event Only Photo Spots – available throughout the park all day
Event Specific Food and Merchandise

Rock Your Disney Side Heroes and Villains Glow in the Dark T-Shirt
Rock Your Disney Side Cupcake
Extended Restaurant hours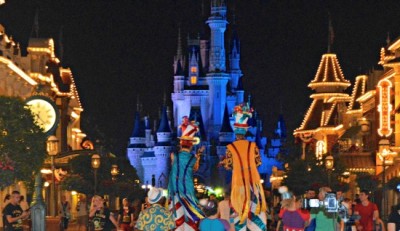 All in all, the Magic Kingdom's 24-hour park day was tons of fun! Even if we didn't spend the entire 24 hours in the park, we enjoyed every minute of the hours we spent there and loved seeing a different side of the Magic Kingdom!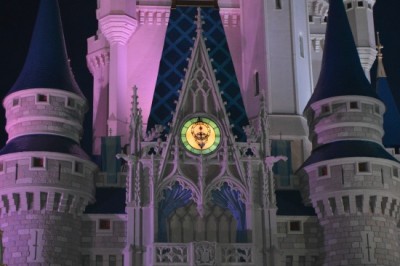 Did you attend last year's 24-hour event? What is your favorite memory from the 24-hour park day? Are you planning to attend this year's 24-hour event? We'd love to hear from you in the comments!
Similar Posts: