Delicious Disney Dishes: Keen Eye for Shepard's Pie from Raglan Road
|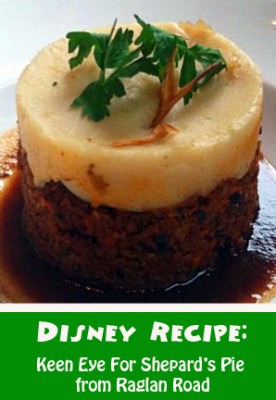 So yesterday was St. Patrick's Day and of course, one of the staples of the Irish holiday is Shepard's Pie. While Lisa gave us a great review of Raglan Road yesterday, I wanted to share a little Raglan Road with you today so that you could bring a taste of the fantastic restaurant home with you!  Here is the recipe for the Keen Eye for Shepard's Pie for you to make the next time you're in the mood for a good and hearty Irish meal.
Keen Eye for Shepherd's Pie
Raglan Road Pub and Restaurant – Downtown Disney
1 shallot
1 teaspoon caster sugar
1 pound potatoes
1 1/4 Tbsp olive oil
1 small onion, finely chopped
1 small leek, finely chopped
1 small carrot, finely chopped
1 garlic clove, crushed
8 ounces lean minced lamb
1 1/4 Tbsp tomato purée
1/4 stick (1 oz) butter
salt and freshly ground black pepper
fresh thyme leaves, to garnish
Preheat the oven to 350°F.
Cut the shallot in half and then cut into thin slices lengthways, leaving the root intact.
Arrange the slices on a non-stick baking sheet and sprinkle with the caster sugar.
Bake for 5 minutes until lightly golden caramelized.
Remove from heat and leave to cool completely.
Cover the potatoes with cold water in a pan and add a pinch of salt.
Bring to a boil, then simmer for 15 to 20 minutes or until completely tender when pierced with the tip of a knife.
Drain in a colander and peel the potatoes while they are still hot.
Meanwhile, heat the olive oil in a pan.
Add the onions, leeks, carrot and garlic and sauté for 3 – 4 minutes until just beginning to soften but not color.
Stir the minced lamb into the pan and cook until browned, breaking up any lumps.
Stir in the tomato purée and cook gently for another 10 minutes until completely tender.
Season to taste and keep warm or reheat as needed.
Mash potatoes.
Quickly heat the milk in a pan.
Beat the butter into the warm mashed potato and then add enough milk to make a smooth but firm puree.
To serve, spoon than mince mixture into 2 1/2 inch ring moulds set on plates.
Carefully remove the molds. Using two spoons, shape the potato purée and arrange on top of each serving (or use a piping bag).
Top with the caramelized shallot slices and fresh thyme and serve.
Happy Cooking!
Incoming search terms:
raglan road shepherds pie
raglan road shepherd\s pie recipe