Frozen on Ice: A Review
|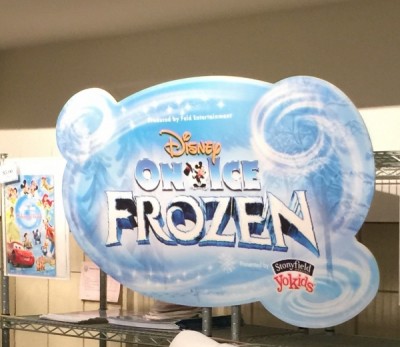 My friend and I took our toddlers (both under two) to Frozen on Ice, the Disney spectacle that is currently touring across the nation. As we walked into the arena, surrounded by many excited little ladies dressed in Anna or Elsa ensembles, the irony that we were going to see the movie "Frozen" performed on actual ice hit me.
In a video available for viewing on the Disney on Ice website, Nicole Feld, producer, says, "In our 35-year history of Disney on Ice, we have been waiting for this film."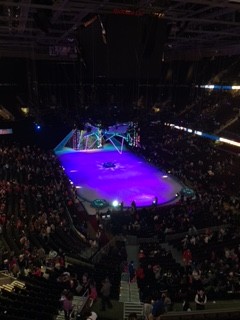 They surely did it justice, never relying on the wintery and icy setting that is featured in the film. Instead, that obvious connection just enhanced the cast's talent and enthusiasm, creating an unforgettable show for thousands of dedicated fans. And most importantly, it kept the attention of our two toddlers; they were transfixed!
The show began with an opening number with some familiar faces, including Mickey, Minnie, Goofy, Ariel, Cinderella, Buzz, Timon, Pumba, and many others. I was instantly impressed by the costumes. There had to be some concessions to allow for safe skating, for instance Ariel was in a pair of cleverly designed fin-shaped pants and Cinderella's usually long dress was shortened, but honestly those revisions were so well executed you never even gave it a second thought. We also liked the winter wardrobes Mickey and Minnie donned, everything down to Minnie's fashion-forward boots!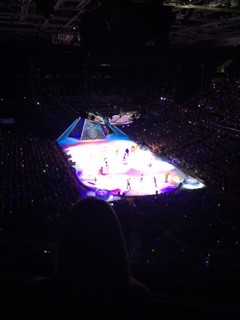 While I wasn't necessarily expecting to see this type of an ensemble, I have to say that as a Disney fan, I was happy. My heart melted when my daughter excitedly pointed out Mickey, but I did hear some frustrated grumbling from the family sitting next to me: "I thought this was supposed to be Frozen!"
After a lively welcome, we were launched into the world of Arendalle – much to the relief of that family sitting to my right. Just like the costumes, the scenery was impressive and detailed. The standout was the snow monster that literally grew from a small pile of ice into an imposing being right before our eyes. The light snow that fell during certain parts of the show was a sweet addition.
Certain things, of course, had to be cut from the ice show, but the overall continuity and fluidness of the movie remained, including the songs: "Do You Want to Build a Snowman?" "For the First Time in Forever," "Fixer-Upper" and even Olaf's solo, "In Summer" were all there. When the fan favorite "Let it Go," was performed, the arena all joined together in an impromptu sing-a-long – almost loud enough to drown out the recording.
But this show wasn't only about the music. The talent of the skaters was striking. Spins, jumps, and flips – they did it all while also portraying the characters' personalities perfectly.
If you wanted to take a memory home from the show, there were plenty of options. T-shirts and dolls were plentiful – as were the lines.
Sweet treats, like cotton candy and snow cones, provided in take-home Frozen-inspired containers were also available.
The show ended with another rendition of "Let it Go," and then a final visit from the other Disney characters that appeared in the beginning. The lights came up as we all applauded, and you could see smiles all around.
As we poured out of the arena, I saw a little boy hugging his grandparents. I overheard his sweet voice say, "thank you for bringing me here … it was like magic!"
I couldn't agree more.
Similar Posts:
Incoming search terms: