Delicious Disney Dishes – Kilauea Torte from Kona Cafe
|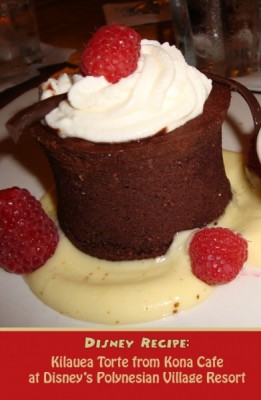 Have I mentioned that I'm a chocoholic? I love the stuff. Chocolate makes me happy.  So, one of my favorite desserts at Walt Disney World is actually a chocolate lovers dream…the Kilauea Torte from Kona Cafe! It's so rich and delicious. There are a few pieces to making this dessert, but trust me, it will be worth it in the end. Chocolate lovers of the world, unite…because you will love this dessert.
Kilauea Torte
Kona Cafe, Disney' s Polynesian Village Resort
Ingredients:
Ganache
1 cup melted chocolate chips
1 cup heavy cream
1.  Scald the cream in a saucepan.
2.  Pour over melted chocolate chips and stir till thoroughly mixed.
3.  Set aside to cool.
Cookie Dough
1 cup butter (unsalted)
1 cup sugar
1 teaspoon vanilla
1/4 teaspoon salt
1 cup sifted cocoa powder
1 1/5 cups all purpose flour
1.  In an electric mixer, cream butter and sugar till smooth.
2.  Add vanilla and salt and mix well.
3.  Combine cocoa and flour and add to butter mixture. Mix until just well blended. Mixture will be slightly dry.
4.  Form into 6 medium and 6 small balls using all of the dough.
5. Place the medium balls into buttered muffin tins dusted with cocoa powder and press dough evenly to the sides of and bottom of tin.
6.  Flatten small balls into circles large enough to cover the tops of the tortes and set aside.
Peanut Butter Cream
1 cup peanut butter
1 1/2 cup sweetened condensed milk
1.  Combine ingredients and mix well.
Preparation:
1.  Place one tablespoon of the peanut butter mixture into bottom of the already prepared large muffin tins.
2.  Pour 1/3 to 1/2 cup of the ganache over peanut butter in tins, filling almost to the top of the dough.
3.  Cover the tops with the dough circles and press firmly to seal.
4.  Chill for 30 minutes.
5.  Once chilled, Place in a 350 degree oven for 25 minutes.
6.  Remove and let cool completely before removing from tins.
7.  When ready to serve, heat tortes in a 200 degree oven for 5 minutes. Remove, place on plate and top with whipped cream.
Happy Cooking!