Delicious Disney Dishes: Breakfast Pizza from Chef Mickey's
|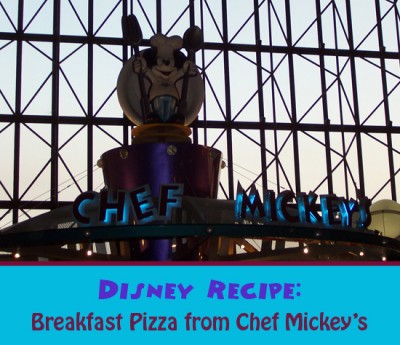 Breakfast is the most important meal of the day.  So, I have found the perfect recipe to get you started the right way. This recipe seems easy enough that it could be made during the week, but personally, I think I'm gonna attempt to make it over the weekend! (Though it could be an interesting breakfast-for-dinner option too!)
Breakfast Pizza
Chef Mickey's – Disney's Contemporary Resort
Ingredients:
1 pre-made pizza crust
½ cup of ricotta cheese
½ cup shredded cheddar cheese
½ cup shredded mozzarella cheese
¼ cup half & half
2 eggs – scrambled & cooled
4 strips of bacon – cooked & chopped
Salt and Pepper to taste
Directions:
1. Preheat oven to 350 degrees.
2.  Scramble two eggs and put aside to cool. (Consider speeding up the process by placing eggs in freezer for a few minutes.)
3. Once the eggs have cooled, place them in bowl add salt, pepper and half and half, then set aside.
4. Add salt and pepper to ricotta cheese and spread the cheese mixture over crust.
5.  Sprinkle both of the mozzarella and the cheddar cheeses over the entire pizza.
6.  Next sprinkle the scrambled egg mixture and chopped bacon over the entire pizza.
7.  Bake for approximately 10-15 minutes or until cheese is melted and golden brown.
Happy Cooking!