Delicious Disney Dishes: Cornbread Stuffing from Liberty Tree Tavern
|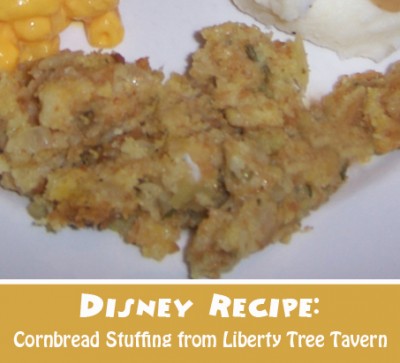 Happy Thanksgiving eve!  Who is ready to celebrate the holiday with your family and friends? I'm sitting here in a panic because I am hosting Thanksgiving this year and I'm stressing over if I got the turkey out in time to defrost, did I buy all the food I'll need, and most importantly, will there be enough pumpkin pie!
So, to get you all in the holiday spirit, I thought I'd share a recipe with you for you to potentially make for tomorrow's meal…cornbread stuffing from Liberty Tree Tavern. Stuffing is such an integral part of Thanksgiving. (And it's one of the most delicious!) So, let's get to cooking!
Cornbread Stuffing
Liberty Tree Tavern- Magic Kingdom
12 cups cornbread cubes
1 tablespoon fresh chopped garlic
1 cup onion, chopped
1 cup celery, chopped
1 teaspoon rubbed sage
1 teaspoon dried thyme
1 teaspoon poultry seasoning
1 teaspoon kosher salt
1/2 teaspoon black pepper
1 1/2 cups turkey stock (chicken may be substituted)
1. In a preheated 400° oven, toast cornbread cubes 5 to 7 minutes or until barely golden
2.  Meanwhile, In a large skillet over medium heat cook garlic, onions and celery for 3 minutes or until softened.
3.  Transfer to a bowl and add the bread cubes, herbs, salt, pepper, and chicken broth.
4.  Toss well and add more seasoning if desired.
5.  Additional broth may be necessary to achieve the desired moisture consistency.
Happy Cooking and Happy Thanksgiving!
Incoming search terms:
https://www themouseforless com/blog_world/2014/11/delicious-disney-dishes-cornbread-stuffing-liberty-tree-tavern/